Whistler Blackcomb gets snow
It is only mid-October and the snow is starting to pile up at the upper elevations of Whistler Blackcomb.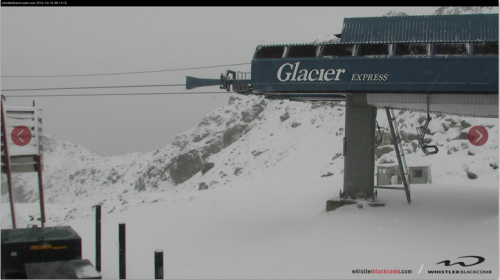 Snow began falling on both mountain peaks the last few nights as freezing levels dropped to 1700 metres, providing the conditions needed for snowfall when a moisture-rich frontal system moved over the South Coast.
However, this is not the mountain's first snowfall after the ski season ended. On July 24, at least 30 cms of highly unusual "summer snow" was recorded at Blackcomb's 7th Heaven.
October's early snowfall is encouraging for ski resorts located on the Coast after the 2013/2014 winter season's dismal snow drought. The resorts in the interior and rockies region enjoyed a great snow season.
At one point during the peak of the last ski season, only one-third of Cypress Mountain's alpine runs were open while Mount Seymour went to the great lengths of offering "bring a friend" free skiing promotions. Vancouver Island's Mount Washington even delayed its opening until mid-January due to a lack of snowfall and compensated its members with free skiing passes to Whistler Blackcomb.
Whistler Blackcomb is currently scheduled for a November 27, 2014 opening, although this could happen earlier if there is sufficient early snow. An early snowfall allowed the resort to open its ski hills 13 days early for the 2013/2014 season.