Pat Morrow receives Honorary Doctorate
Pat Morrow, the legendary Canadian adventure photographer and mountaineer, received an Honorary Doctorate from the Thompson Rivers University (TRU) at their Fall Convocation.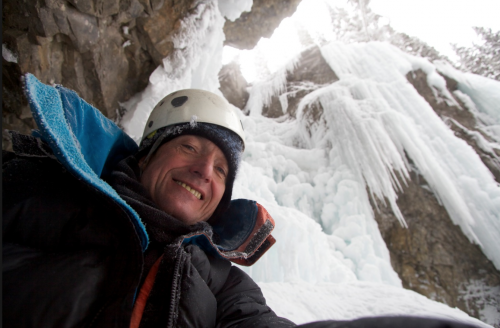 Events related to the award included a department staff gathering, Convocation, and Convocation Dinner. Pat spoke at the Convocation and presented a slide show to the dinner.
This is the second Honorary Doctorate sponsored by the Adventure Studies Department. The first in 2004 was awarded to Hans Gmoser, the founder of helicopter skiing and Canadian Mountain Holidays (CMH). Also a good friend of Pat's, Hans Gmoser was a strong early supporter of the Adventure Studies Department.
Pat's photographic career took off when he scaled Mount Everest in 1982 as the photographer for Canada's first and widely publicized expedition to that mountain. With the unwavering support of Equinox Magazine, he continued a global climbing spree to the highest peak on every continent. By 1986, he reached the summit of Irian Jaya's Carstensz Pyramid, thus completing the Seven Summits project. His book, Beyond Everest: Quest for the Seven Summits, documents that hallmark adventure. In recognition of these achievements, he received the Order of Canada in 1988 and the Summit of Excellence at the 1990 Banff Mountain Film Festival.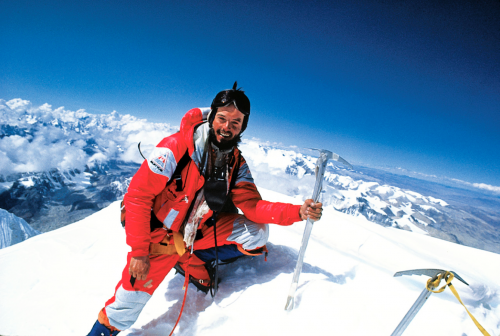 Pat's wife Baiba, an occupational therapist from Montreal who moved in the Rockies, forged a career with Pat and still stay best buddies. She embraced the unpredictable lifestyle of a freelance photojournalist and her mother has long since stopped asking her when will she get a real job.
In the early 70s, Pat joined forces with local environmental activists to help establish the Purcell Wilderness Conservancy. Today he and Baiba lend their support to Wildsight conservation efforts aimed at mitigating the destructive forces of industrial tourism development and extractive industries in the Purcell Mountain range and neighbouring Rockies. As of 2010, Baiba sits on the board of directors of Wildsight.
In 2010, the Alpine Club of Canada and the Association of Canadian Mountain Guides bestowed the tremendous honour of inviting Pat to be the patron of the 21st Annual Mountain Guide's Ball (in 2013, Pat was delighted to receive honorary membership in the ACC). Not only was it a great party, but the funds raised went straight into Wildsight's Education in the Wild program, which takes school kids up to grade 12 on cool ecology field trips in the Purcell and Rocky Mountain watershed with professional instructors.
David Suzuki applauds the program: "Reconnecting our children with our natural surroundings is what makes the Wildsight educational programs so valuable to children and parents in the Columbia Basin."
A Journalism graduate of SAIT Polytechnic in 1974, in 2010 the Southern Alberta Institute of Technology honoured Pat with its Distinguished Alumnus Award.
Vist their website for more on the peripatetic world of Pat & Baiba Morrow.