Pig Spleen Deep Snow Forcaster
Are you questioning if this is going to be a good snow year? Is this the year for an epic heli-skiing holiday? You could be looking and asking in all the wrong places. Apparently mother nature has the answer.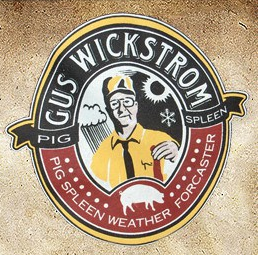 Glen Wickstrom (Gus) of the village of Tompkins, Saskatchewan was a young onlooker as his dad Ernest and his neighbours slaughtered pigs in the fall, and used the pig spleen to predict the upcoming winter and spring weather. Using this same method, Gus, a man in his 60's established local and even international attention with his unusual but ever so reliable, accurate and detailed weather predictions!
Every 6 months or so, Gus slaughtered a pig, and in the frugal way of farm families, he found a way to use everything but the squeal, as they say. Gus closely scrutinized the spleen, using a method he learned from his father and Harold Pearson, a neighbor.
Gus divided the spleen into six areas, each representing 1 month. The top of the spleen (closest to the pig's head) shows the current month. The bottom indicates the end of the upcoming six-month period. Where the spleen thickens, a change in the weather is indicated, usually pointing to a cold spell. Where there's a pronounced bulge, expect even more inclement weather. Gus could even read wind and rain into the variations in the spleen.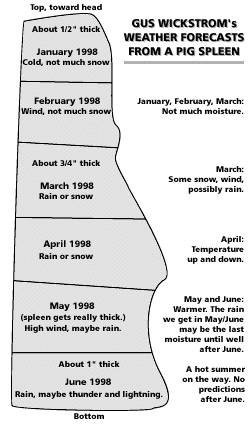 Gus stated "Environment Canada has thousands of dollars worth of weather instruments and all I have is a $2.00 pig spleen. I can compete with them and better their accuracy." Gus claimed 80-90% accuracy.
Now nephew Jeff Woodward continues the art of 'Exspleening' since Gus' untimely death in 2007. Jeff's forecasting record speaks for itself as he had impressive forecasting results. Each New Year, Jeff observes the spleen and is assisted by several cheering family members, giving him the proper encouragement needed to complete such a task!
Jeff's (and Gus') spleens are obtained from southwest Saskatchewan for prediction purposes. The forecast is recommended for a 200 mile radius from where the pig was grown.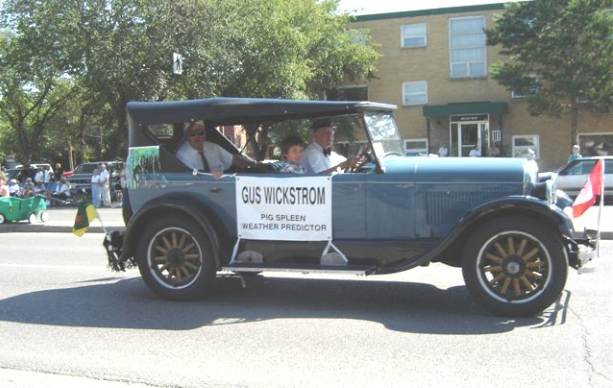 PIG SPLEEN WEATHER PREDICTION 2015
The forecast this year is based on several spleens from the Ear View Hutterite Colony south of Gull Lake, and from some free range pigs from the McCallum Ranch near Eastend. The 2015 winter looks like it will be long and cold however not as bad as last year. It will be colder than average, have more snow than average, and will linger longer than usual. There will once again be several days with rain mixed with snow making for some difficult driving conditions. These rains on frozen roads will lead to icy conditions and highway closures. There will be a significant difference between the weather south of the number one highway towards Eastend and north of the highway. The winter in Eastend and area will be significantly more mild with much less snow, particulately in January and February. Late April will not see allot of precipitation however cold temperatures may delay seeding with opportune times starting after May 18. There is one anomaly in the spleen on May 18 that will be significant. This date should be highlighted.
January
Winter will start out cold that and will trend this way from Jan 1 to Jan 7. From Jan 8 to about Jan 20, temperatures will start out above average and fall to average on Jan 21 when there will be a day of snow and possible rain. From Jan 20 to the end of January, temperatures will stay average to above average until the end of the month. There will be snow between Jan 9 an Jan 11, in addition to the event on jan 21. After Jan 21, snow will be more general through Feb and March.
February
Warmer temperatures at the end of January will disappear during the first week of February. February will be the start of more regular moisture with snow on Feb 3 and a more significant event on Feb 13. A small warming trend on Feb 10 will be followed by -20 to -25 temps for the middle of the month and a gradual warming towards the end of the month. Feb 27 will see another snow event and temperatures will gradually improve into March. The Groundhog should see his shadow as there will be at least 6 more weeks of winter.
March
The beginning of March be generally cloudy with snow from the first to about March 5. There will be snow or snow /rain on March 8 and March 10. After March 11, winter will be on the decline until March 18 when there is a significant event that will hit the province. From mid March until March 27 , temperatures should be well above average. Another rainfall event will occur between March 27 and April 2. after March 27, temperatures will be below average and the end of the month will be rather cold.
April
April will be unseasonably cold between April 1 and April 7 when temperatures will stabilize. Temperatures will be average from April 7 to April 15 and then will get cold again until April 21. From April 21 to then end of the month will see a warming trend. Precipitation will be on April 1 (carry over from March), April 7 and April 21. Both April 7 and 21 rain events will be at the start of a warming trend.