CMH heli-skier dies in avalanche
A heli-skier died in a large avalanche at Canadian Mountain Holidays Adamants tenure on the morning of Monday, Mar. 24. The victim was a 45-year-old German visiting the Revelstoke area to heli-ski.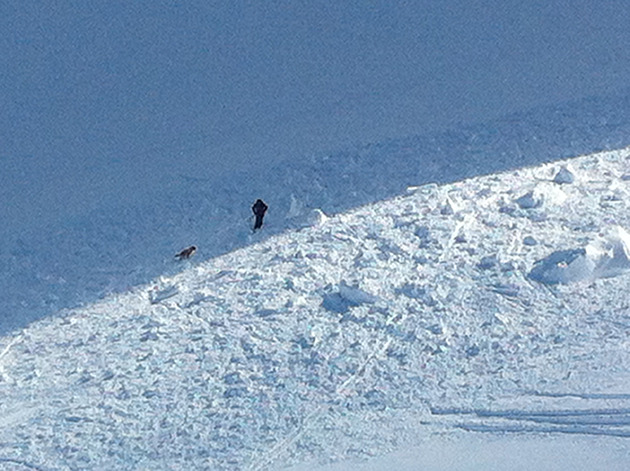 Here is a message about the event posted by CMH.
A MESSAGE TO CMH GUESTS & THE MOUNTAIN COMMUNITY
We are deeply saddened to advise you that on March 24, 2014 at approximately 11:28am MST there was an avalanche in the Selkirk Mountain Range, approximately 100km north of the town of Revelstoke, BC. which resulted in one fatality. The incident occurred in the CMH Adamants tenure while four guests and one guide were waiting to be picked up by a helicopter near the valley bottom.
At this time, our deepest sympathies are with the family of the victim. The thousands of guests who ski with us each winter are like our family. It is impossible to put into words the sorrow that we feel and the sorrow that is shared by our guests, their families and all of our staff.
Here is what we know: The avalanche was categorized as a size 4 on a 5 point scale. The fracture line of the avalanche occurred at an elevation of approximately 2,550 metres on a slope with a westerly aspect. The avalanche destroyed a 250 metre wide area of mature timber that was directly above and sheltering the pickup location which was at an elevation of approximately 1,400 metres.
There was one person fully buried by the slide and they were located with their transceiver and removed from the snow. Two physicians were on scene and attended to the victim who could not be resuscitated. Three guests and one guide were also involved in the incident and were treated for minor injuries.
An investigation of the event is being coordinated by the BC Coroner's Office and the RCMP. CMH is fully involved in this investigation and our collective findings will be shared with others in the mountain community and any other appropriate parties.
The Revelstoke-based Canadian Avalanche Centre's danger rating forecast for the North Columbia zone was 'considerable' for the alpine and treeline and 'moderate' for below treeline. "Very persistent weak layers buried deep in the snowpack remain a major concern and there have been several very large, destructive avalanches in the last couple days on these layers," wrote the CAC forecaster in their Mar. 24 forecast bulletin for the North Columbia area. "Conservative terrain selection remains crucial at this time."
A majority of avalanche deaths in Canada involve heli-skiers.