Paralympian joins Northern Escape staff
Among the newcomers to the Northern Escape Heliskiing crew this winter is 27-year-old server, Andrea Dziewior. Aside from her friendly personality and kind smile, there is something unique about her that may not be noticeable immediately.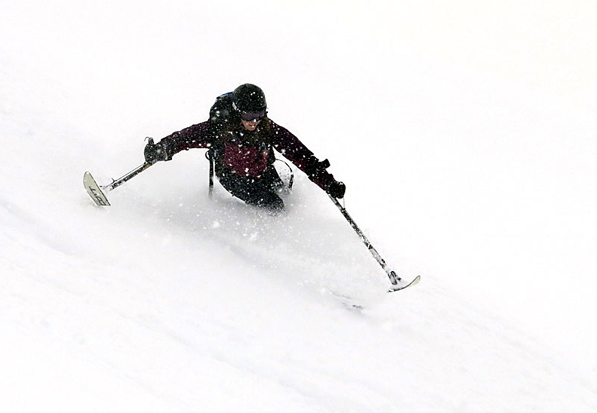 Due to complications at birth, she is an above the knee amputee. Andrea does not let this slow her down one bit. In fact, she has accomplished more in athletics than most able bodied individuals could dream of. She skis with the assistance of outriggers and rips it up on one leg.
She started ski racing at the age of five and made the BC provincial disabled alpine team when she turned 13. At the age of 17, she landed a spot on the national disabled alpine ski team.
Andrea raced the World Cup circuit and only missed qualifying for the Torino Paralympics in 2006 by one spot. She went on to represent Canada at the 2010 Paralympic games in Vancouver, where she competed in four alpine disciplines and finished in the top ten in all of them.
Her favorite memory from the games was standing at the starting gate and hearing the roar of the crowd cheering her on from the bottom of the mountain. "It was really awesome," she said of being a hometown athlete in a familiar place of her training grounds with all her family and friends there. "It was high speed and a lot of fun!"
Andrea ended up in Terrace with her fiance Kaleb Brousseau, who hales from the city in northwestern, BC. His family is here, and he lured her with the promise of deep powder skiing. Kaleb is a sit-ski athlete and also on the Disabled Canadian Alpine Ski Team. He will be representing Canada in all the alpine events at the upcoming Paralympic games in Sochi, Russia. Although she can't be there to cheer him on personally, she is excited to watch him compete via live streaming. Andrea is proud to share the accomplishment of achieving the Olympic dream with her fiance.
After Kaleb convinced her to move to Terrace, she has become very keen on skiing powder. "It took a long time to learn," she said. "Racing is precision edge timing while powder is about balance, float and weightlessness." She equates ski racing to a race car on a razor blade, while skiing powder is more like floating on clouds. When skiing powder, she has to focus on not leaning forward too much as she does when racing downhill.
Working at Northern Escape Heli-Skiing has been a great fit for Andrea. "NEH has great staff, which can make or break the work experience," she said. "We share the love of sport and the endless pursuit of powder. We all have the same level of understanding and love of skiing."
By Aaron Whitfield