Canadian Skiers, Riders Shine in Sochi
Canadian skiers and snowboarders racked up a dozen medals during the Sochi Games, nearly half of the 25 medals won by Canadian athletes. They also took home four of Canada's 10 gold medals. All that helped Canada rank fourth in the overall medal count, and third in the gold-medal count, just ahead of the U.S.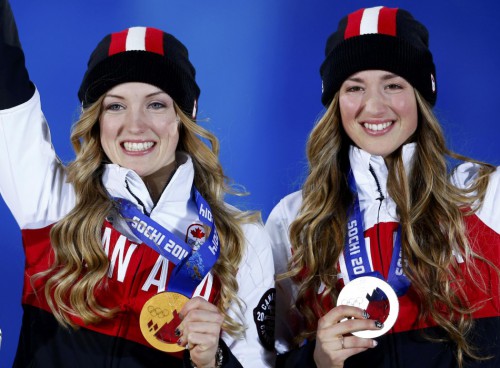 Canadian skiers dominated the men's and women's freestyle mogul events as Alex Bilodeau (gold) and Mikael Kingsbury (silver), and the sister team of Justine (gold) and Chloe Dufour-Lapointe (silver) took the top spots. Bilodeau became the first Canadian male to ever repeat as Olympic champion.
Canadians skiers also dominated the new women's slopestyle and skicross events. They took gold and silver in women's skicross (Marielle Thompson and Kelsey Serwa), and both gold and bronze in women's ski slopestyle (Dara Howell and Kim Lamarre). Not to be outdone, Mike Riddle won silver in men's ski halfpipe.
Among the single-plankers, Dominique Maltais won silver in women's snowboardcross, and Mark McMorris, despite a few broken ribs, got the bronze in snowboarding slopestyle.
Last but not least: Jan Hudec, who tied American Bode Miller to share bronze in men's super G, captured Canada's first medal in alpine skiing in 20 years.
The medalists:
Gold: Justine Dufour-Lapointe, moguls
Gold: Alex Bilodeau, moguls
Gold: Dara Howell, ski slopestyle
Gold: Marielle Thompson, skicross
Silver: Chloe Dufour-Lapointe, moguls
Silver: Mikael Kingsbury, moguls
Silver: Dominique Maltais, snowboardcross
Silver: Mike Riddle, halfpipe
Silver: Kelsey Serwa, skicross
Bronze: Mark McMorris, snowboard slopestyle
Bronze: Kim Lamarre, ski slopestyle
Bronze: Jan Hudec, super G