BC Snow Discussion
The February 1st snow survey is now complete. Data from 119 snow courses and 51 snow pillows around the province and climate data from Environment Canada form the basis for the following report. The report is a technical weather discussion for Emergency Planners, Broadcast Meteorologists and meteorologists.
Fortunately a week of snowfall is forecast for most of British Columbia.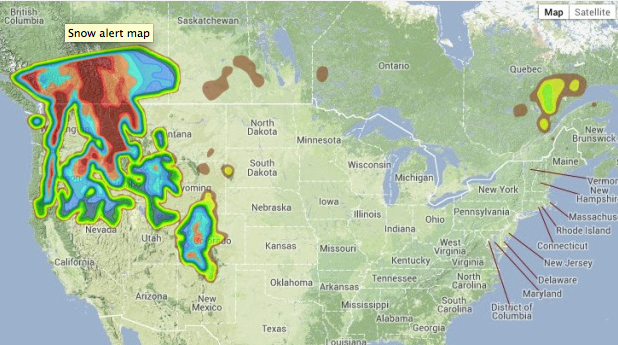 The full version of the bulletin including text, data, graphs and basin index map can be viewed at the River Forecast Centre web site.
Weather
January weather was dominated by persistent high pressure systems which led to dry conditions for most of the month. One period of unsettled weather occurred earlier in the month, and led to some additional snow accumulation across the province. January precipitation was well below average across the province. Particularly dry regions, with January precipitation amounts in the 30-60% of normal range, included the South Coast, Vancouver Island, North Coast, South Interior, and Central Interior. For most of the south half of the province, precipitation has been below normal since October.
Temperatures in January were above normal across the province. Temperatures on Vancouver Island and the South Coast were 0-2˚C above normal, 1-4˚C above normal in the North Coast, Okanagan, South Interior, Kootenay, Columbia and Thompson regions, and 3-8˚C above normal in the Chilcotin, Cariboo, Prince George, Skeena, Peace and Northern BC.

Snowpack
Dry conditions through January led to a decline in snow basin indices in most regions of the province. Snow basin indices range from a low of 28% of normal on Vancouver Island, to a high of 174% in the Liard (Table 1). Most regions of the province have normal to slightly below normal snow pack (80-100%; See Figure 1). Note the River Forecast Centre is now using the 1981-2010 normal period for snow water equivalent normal values compared to the previously used 1971 – 2000.
Source: meteorologistdavidjones