Anatomy of an avalanche
There's nothing quite like the freedom of exploring the mountains in their blanket of winter. The sense of adventure starts with your first step into the wild. The great wide open.
Whether you're gunning up a slope on a high throttle engine, carving down a face on fat powder boards or snowshoeing through a pristine valley, the experience of snow is unlike any other.
There's also nothing quite like the power of avalanches. On steep slopes, heavy mountain snows delicately resting on suspect layers below can send masses of debris down with incomprehensible force. The resulting powder-clouds have historically been called the breath of dragons.
Every year, people lose their lives to them. This winter 16 people have died in the intermountain west.
During the last 10 winters, an average of 28 people have fallen victim to avalanches annually, according to the Colorado Avalanche Information Center, a division of the Colorado Department of Natural Resources that focuses on snow studies and avalanche forecasting.
Avalanches, according to the CAIC, kill more people in Colorado than any other natural disaster. In fact, the state leads the nation in avalanche fatalities. Since 1950, 264 people have died here because of the natural phenomenon. The majority of these tragedies – killing snowmobilers, skiers and snowboarders – occur in January and February.
But just like fire mitigation in the summer or staying out of the river during a flood, avalanches can be anticipated and avoided.
"It's similar to going out for a picnic or anything else," said Ethan Davis, forecaster with the CAIC in Boulder. "You'd check the weather forecast. So anytime you go into the mountains, you should check the avalanche forecast."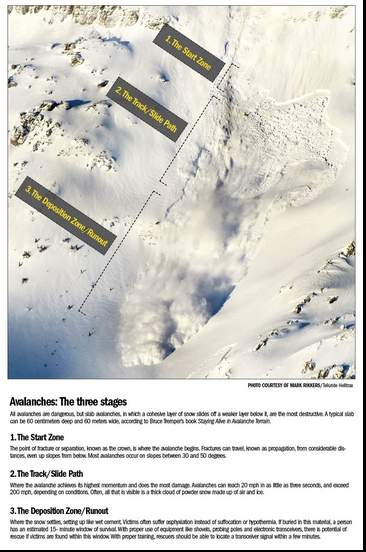 The CAIC's website tracks storms, observes the snowpack and forecasts avalanche conditions every day. Staff members conduct in-depth investigations of accidents and provide detailed educational materials and resources for the public.
On the website's forecast page, mountains are divided into zones, and checking conditions for your local area is as simple as a click of the mouse or a tap on your phone. A little surfing can lead to historical data, valuable weather observations statistics and reports.
The snow isn't the problem
Based in Durango, Josh Hirshberg is the CAIC forecaster for the Northern and Southern San Juan Mountains. He divides his time between Durango and Telluride and travels the region studying the vast mountain ranges that together are comparable in size to the Swiss Alps.
He said that avalanche components are a constant, but it's the human factor that leads to problems.
"The snow is a really complicated and fascinating thing," Hirshberg said. "But the trouble is really our own decision making."
During the wave of deaths this month, avalanche forecast centers across the West issued strong warnings of dangerous conditions.
In reality, nearly all avalanche victims trigger their slides. In Colorado, an estimated 20,000 avalanches occur each winter, according to the Colorado Geological Survey. A fraction of those are reported or even seen. When people, property and commerce are affected, they gain attention.
"Snow is a funny thing," said ski mountaineering guide and guide book author Andrew Klotz. "It looks very benign. It's a soft and fluffy substance, and it's really hard to intuitively understand how much force all that soft and fluffy snow can actually convey – enough to rip down large trees and bend people in half."
Klotz knows from experience.
"Until I was in a powerful avalanche, I didn't really get that," he said.
Many snow safety professionals believe it's not a lack of resources or information, but a deficiency of getting that information out to people that need it.
'A marketing problem'
Drew Hardesty, who works for the U.S. Forest Service Avalanche Center in Utah, said the issue isn't a lack of understanding about avalanches, it's conveying it to the public.
"We don't really have an information problem," he said. "We have a pretty good grasp on snow and weather conditions. We have a marketing problem."
He also expressed that people may simply misinterpret the potential danger.
"It's a matter of scale," he said. "It doesn't matter if a slope is 200 feet high or 2,000 feet high; if it has the slope angle and the snow structure, then avalanche accidents can follow."
A 23-year-old Colorado Springs woman who was killed this year while snowshoeing near Provo, Utah, was in close proximity to her car at the time of her death.
"I guarantee that she had no idea of the avalanche conditions out there, even though there were a variety of outlets we had issued a warning through," Hardesty said.
Like many others, he is troubled by the gap between under-informed backcountry users and the amount of resources available to them.

The danger of knowledge
Surprisingly, the risk is just as high for those who have formal avalanche training, if not higher, according to a study by the University of Calgary.
Aspen Expedition's guide Britt Ruegger put it this way: "You get enough knowledge to go out and get into trouble."
"It's certainly not just the unaware." Hardesty said. "There are certainly people with plenty of experience out there getting caught."
On Feb. 10, the same day two others succumbed to slides to the north, two highly experienced backcountry skiers were swept up in a large slide near Silverton. They were injured but survived. Another escaped unharmed.
Two experienced Durango backcountry skiers were killed last year. On Feb. 2, 2013, 23-year-old Peter Carver died outside Silverton. A month later, Durango native Joe Philpot was killed in a northern Colorado slide. A scholarship in their name for avalanche education is in the works.
No one is immune.
"I've had plenty of my own close calls," Klotz said.
"I don't think you can ever have too much information," said Josh Kling, owner of Kling Mountain Guides in Durango. An accomplished mountain guide, he also teaches avalanche education courses of all levels, from basic awareness formats to highly advanced snow studies.
"I don't think people are going out and feeling like they are being unsafe, but often times they just don't know," he said.
He said that while athletic ability travels far, it doesn't make up for valuable knowledge. Kling was describing what avalanche researcher Ian McCammon calls the "expert's halo," where a person's perceived experience is based on personality instead of real qualifications.
"An expert isn't just someone who's been a ripper in the area," Kling said, "an expert is someone who is really good with weather observations and their documentations and their rescue skills – all of those things."
He added that there are numerous outlets for education and training: online, in the classroom and in the field.
"Take a course from a seasoned professional, someone who's really gone through some high level training. I still take courses," Kling said.

Educate yourself
Silverton Avalanche School has been operating since 1962. Director Jim Donovan also said getting appropriate training should be a given for those who plan to spend time in the winter mountains.
"In Colorado, we have perhaps the most numbers of avalanche educators anywhere. There's not an excuse these days. There's a wide range of courses that people can attend," he said.
Donovan, too, mentioned the human factor.
"It cuts across all experience levels," he said. "When you look at accidents over all, it's the human decision making that plays the biggest role. It's really about how much you're using your brain when you're out there. It takes more than a lifetime to understand how these things are working. It doesn't have to be a big slide to ruin your season."
Avalanche training courses teach students what conditions to avoid, how to evaluate layers of snow and the terrain it's in. Instructors emphasize making good travel decisions and what components to look for that can lead to avalanche danger. They also teach students how to do something as simple as calling their local avalanche hot line or checking their local online avalanche forecast.
"Educate yourself as much as you can," Klotz said. "Be conservative but get out in the terrain. There's no absolute guru out there that never makes mistakes or who knows what the snowpack is always going to do."
He said while the rewards of the mountains are high, one should always be on the lookout.
These dragons are real.
"It's a high-risk environment, and if you're going out to do stuff in a high-risk environment, your vigilance has to be high. It's so fun; I don't ever want to discourage people from doing it. But, it's not worth dying over."
Avalanche deaths
This winter 16 people have been killed by avalanches in the West as of Feb. 18, according to the Colorado Avalanche Information Center:
Dec. 26: A 29-year-old skier died in Jackson Hole, Wyo. The same day in Idaho, a 39-year-old snowmobiler was buried in an area known as Palisades backcountry.
Dec. 31: A snowboarder was killed in Colorado near Steamboat Springs.
Jan. 1: A snowmobiler died in the Gallatin Mountains in Montana.
Jan. 7: A 23-year-old skier died just outside the ski area boundaries at Vail.
Jan. 18: A climber near Stevens Pass, Wash., was killed.
The weekend of Feb. 8: An avalanche killed a 23-year-old Colorado Springs native, a Brigham Young University student who was snowshoeing near Provo, Utah. Eighty-three miles south, a snowmobiler was killed, buried under more than 6 feet of snow.
Feb. 10: An out-of-bounds skier was killed near Keystone, and west of Crested Butte, a snowmobiler lost his life.
Feb. 11: Two climbers were killed in the Wallowa Mountains of Oregon.
Feb. 15: Two Wisconsin skiers in their 30s, vacationing near Leadville, went missing after an avalanche near Twin Lakes. Their bodies were found the next day.
Feb. 16: In Idaho, a 64-year-old man was killed while snowmobiling.
Feb. 18: In Wyoming, a 26-year-old man died when an avalanche swept his snowmobile into a tree.
Resources
Avalanche Canada
American Avalanche Association
By Brandon Mathis
bmathis@durangoherald.com