13+ feet of snow in February!
To say Stevens Pass ski resort got a little bit of snow this month is to say a few people showed up Downtown for the Seahawks Super Bowl Parade.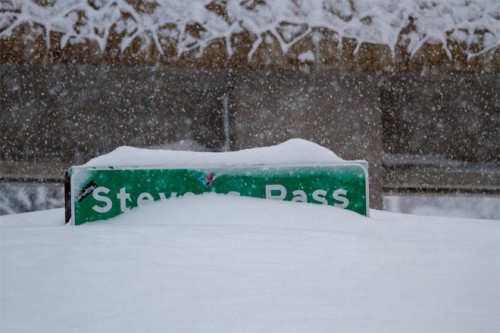 The ski resort said Thursday that so far this month, they have received 160 inches of snow — over 13 feet! — making it the second snowiest February in the last 50 years up there. It's been only upstaged by the epic winter of 1998-99 that had 226 inches at Stevens Pass in February and overall set the world record for seasonal snow at Mt. Baker.
The resort said more than 10 feet of that snow fell over an 11 day period from Feb. 10-21, doubling the base depth from 61 inches to 129 inches. As of Thursday, the base sits at 145 inches at the top and 124 inches at the base.
Stevens Pass has now had 342 inches of snow for the entire winter with six or so weeks left in mountain snow season. The annual average is 450 inches and they've averaged 118 inches in March over the past 5 years.
But with all the snows comes danger as well. The resort says high avalanche dangers have kept their ski patrol busy with avalanche mitigation efforts. Explosives dropped from a helicopter have even been employed to trigger avalanches outside the ski area boundary that could potentially travel into the resort.
Here is some dramatic video from Stevens Pass showing the power of those avalanches!
And there is more snow on the way. Forecasts show about 24-30″ of additional total snow will fall around that part of the Cascades at times through Friday.