12 Deepest Lift Serviced Snowpacks
It's mid season and time to compare which lifts are serving the deepest snowpack, it has been an interesting year to say the least.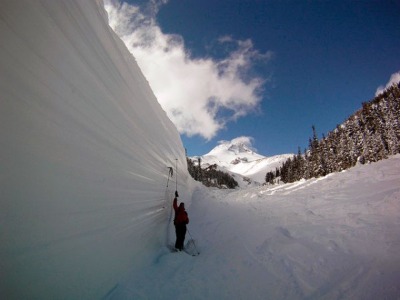 Thus far, the 2013-14 season has seen widely divergent performance across regions. Many areas have enjoyed average snowfall, though frequent droughts have damped business on occasion. Most West Coast areas suffered from a historic dearth of precipitation early in the season, Mt Washington and Mt Cain on Vancouver Island in particular, have yet to open for the season. Mt Cain has closed for the season in past years due to excessive snow and the inability to access the base.
How ofter does Whistler Blackcomb have less snow than Lake Louise? Charley's laughing all the way to the bank! Fortunately Whistler Blackcomb turned on its massive snowmaking system, another Olympic legacy, and have pumped over 500 million liters of water to date.
Due to the low snowpack and an earlier rain crust, persistent instabilities loom in the snowpack. Avalanche conditions will most likely worsen with increased snow.
So here it is with snow depths reported by each resort's website at mid mountain locations on February 4th, 2014.
12 Deepest Lift Serviced Snowpacks
#1 = Powder King, BC = 245cms
#2 = Shames Mountain, BC = 223cms
#3 = Big White, BC = 205cms
#4 = Kimberley, BC = 187cms
#5 = Whitewater, BC = 184cms
#6 = Fernie, BC = 177cms
#7 = Revelstoke, BC = 146cms
#8 = Lake Louise, AB = 135cms
#9 = Whistler Blackcomb, BC = 127cms
#10 = Red Resort, BC = 120cms
#11 = Castle, AB = 108cms
#12 = Marmont Basin, AB = 87cms
The season is young and I'm looking forward to many good powder days this season…bring on the snow!!