Where is the Avalanche Danger Rating?
Daily avalanche forecasts will begin on Friday, November 22. Until then, you are your own forecaster.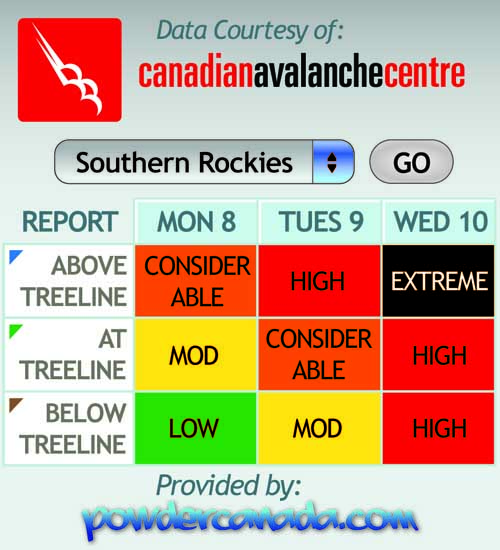 Here are some ideas from forecaster Tom Riley:
Producing avalanche forecasts and issuing danger ratings requires information. We rely largely on data from professionals and at this time of year, a lot of them have not yet started their winter operations. As a result, in the early season, we often do not have enough information to issue a full slate of danger ratings and other parts of the forecasts may be more a general overview than a specific description of the conditions. For the next while, until our data flow is well established, some regions may only have danger ratings for some elevation bands. Some regions may have so much variability at this time of year that it is not possible to give a general regional rating. We may feel that we have enough information to describe the avalanche problems at higher elevations in regions where there's little variability.
A common early season problem is the variability in the "Below Tree-Line" or BTL elevation band. The upper BTL may have close to a metre of snow on the ground, and then it may taper down to nothing (below threshold) in a few hundred metres of elevation loss. The freezing levels bounce up and down from warm wet storms to cool dry breaks, and you head out for your day not even knowing how high you are going to drive before you launch the sled or snap into your bindings. How would you use a danger rating to help reduce your risk in this scenario? Can we assume that you are just travelling through most of the variability on a well-defined access road, or are you tearing into the first pockets of snow that you see to try to get some snow on your rad (or your rad on some snow)?
We would like to see you "dig down" past the danger ratings and colours at least as far as the avalanche problems. The avalanche problems are made up of an "avalanche character", some information about where we think you will find that type of avalanche (elevation and aspect), and what to expect as far as size and likelihood. This is where you should develop a mental picture that you can compare to what you find when you get into the backcountry.
Remember that the bulletins are designed to be a starting point for analyzing risk and choosing trips that have terrain that matches the forecasted conditions. You should be updating the local danger on a slope or basin scale as you gather information during your trip. Using a tool like the Slope Evaluation Card in the Avaluator or the Decision Making in Avalanche Terrain Fieldbook can help you decide how much risk you are willing to accept, and adjust that risk by choosing the terrain that you travel through.
We don't know what you are planning to do, or where you are planning to go. We can tell you what kinds of avalanche problems we think you should expect based on what we know has already happened, combined with what we are expecting to happen in the next few days. It is up to you to get some training so that you know what to look for during your trip. Check out some training here.
As we obtain more information, we'll add danger ratings to elevation bands and regions, avalanche problems will become more detailed, and the forecasts will be fully fleshed out. We hope you get in the habit of looking at the avalanche problems and develop your understanding of how the problems drive the danger ratings. Take it easy out there and start building your knowledge of the local snowpack. If you see something worth sharing, send an email to forecaster@avalanche.ca.