Kananaskis Skier Triggered Avalanche
Here is a photo of yesterday's avalanche at Tryst Lake reported by the Kananaskis Country Public Safety. Looking at the photo it is interesting how it went to ground and propagated as far as it did. This suggests the problem will be with us for a long time. A deep, persistent weakness. Not the best news for this time of year…For now we'd advise assessing the snow very carefully and keeping lines conservative.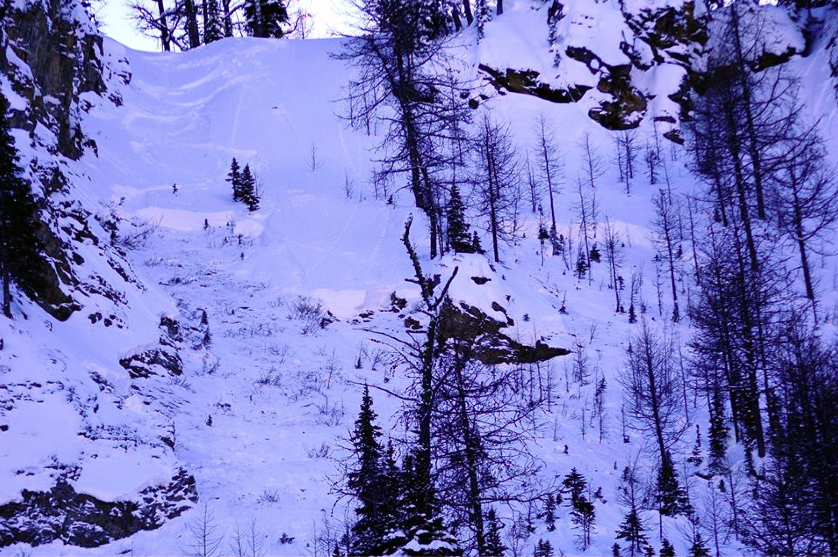 For the last few days the Kananaskis Country Public Safety Section has seen a steady increase in avalanche hazard. The Tryst Lake slide confirmed the hazard with a skier accidental. A party of two assessed the conditions and began skiing one of the chutes. The first skier made it down OK but the second skier triggered a size 2 slab mid-run. The skier was scrubbed through the trees and luckily enough walked away with minor injuries. The snowpack consisted of 20cm of facets on the ground (no crust), a stiffer layer above that and the recent storm snow above that. This avalanche went on the facet layer on the ground. A good warning for all of us. We'd like to thank the party involved for reporting it and encourage everybody to report near misses like this one.
The Kananaskis Country Public Safety is a professional rescue organization working for the Alberta Government in the Ministry of Tourism, Parks and Recreation. A page of the Government of Alberta. Staff within this department are members of the Association of Canadian Mountain Guides (www.acmg.ca) and also professional members of the Canadian Avalanche association (www.avalanche.ca).