The Essential First Step to Safe Backcountry Use
In Canada we enjoy the world's finest opportunities for snow related outdoor recreation. Each year increasing numbers of skiers, snowboarders, climbers and snowmobile riders are venturing into the mountains with their friends to enjoy these special natural places. Regrettably, each winter some of these people die in avalanches. The CAC believes the ability to recognize and avoid avalanche terrain and effectively rescue a member of the group buried by an avalanche are essential winter survival skills for outdoors enthusiasts. Avalanche Skills Training programs (formerly Recreational Avalanche Courses) are an essential first step to safe backcountry use in the winter.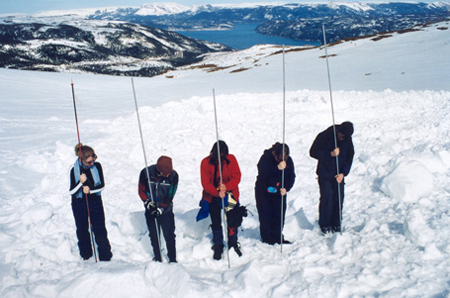 Avalanche Skills Training (AST) Program Curriculum
With support from the National Search and Rescue Secretariat's New Initiatives Fund, and the collaboration of the Canadian Ski Patrol System, the Alpine Club of Canada and others, the CAC has designed curriculum for Avalanche Skills Training Level 1 (AST) and Avalanche Skills Training Level 2 (formerly known as Introductory and Advanced RAC training), and produced high quality instructional materials, videos and reference books to promote effective learning progressions that emphasize the most important knowledge and skills. The CAC encourages and facilitates avalanche accident prevention in Canada by providing these training materials to numerous independent instructors who are CAA members in good standing. These individuals conduct AST programs as a small business or public service venture within their communities.
AST Level 1 courses have a minimum of 7 hours of classroom instruction plus one full day in the field. This course, developed with the generous assistance of the National Search and Rescue Secretariat, covers the fundamentals of backcountry avalanche awareness and companion rescue.
AST Level 2 courses offer a minimum of 9.5 hours of classroom studies and 3 days of field instruction. Some instructors may offer AST Level 2 that is up to seven days in duration.
New for the 2011-12 winter season, a one-day Companion Rescue Skills course is now offered to graduates of either the AST 1 or AST 2 programs. This one-day, field-based course can be viewed as a refresher, to be taken each year by anyone heading into the backcountry or by anyone who wants to hone these important skills.
The AST trajectory is well suited to all backcountry recreationists whether skiing, boarding or snowmobiling. For anyone wanting to learn how to recognize avalanche terrain, how to choose safe routes in avalanche terrain and learn more about decision making, the AST 1 and AST 2 courses will give you a good start.

The CAC's role in AST programs
The CAC facilitates avalanche safety in Canada by developing nationally recognized avalanche course standards and providing support and instructional materials to independent instructors who in turn deliver AST programs. The CAC has developed minimum criteria for both AST Level 1 instructors, AST Level 2 and Companion Rescue Skills (CRS) instructors. AST Level 1 instructors have successfully completed a week long Level 1 – Operations course offered by the ITP and are active members of the Canadian Avalanche Association. AST Level 2 instructors have successfully completed ITP Level 2 – Operations training, are professional members of the Canadian Avalanche Association, and have at least four years of operational experience in the avalanche industry. Companion Rescue Skills (CRS) instructors minimally have the same credentials as an AST 1 instructor. Persons considering enrollment in AST programs are urged to inquire about the training, experience and instructional history of the course instructor(s), and satisfy themselves that the AST program they are considering will meet their needs.
Bearing in mind the significant advantages of taking a course from instructors on the CAC list of AST providers, there are certain limitations of CAC responsibility for AST courses that are important for you to note:
– The CAC does not certify AST instructors or monitor their performance as instructors.
– The CAC does not supervise or control the classroom or outdoors activities or safety decisions of AST instructors.
– The CAC does not choose the terrain or monitor the conditions for AST field sessions.
– Instructors teaching Avalanche Skills Training courses are not employees, agents, representatives, independent contractors or subcontractors of the CAC.
– The CAC assumes no liability for loss, injury or death incurred during participation in AST training.