Mica Announces Terrain Expansion
Mica Heliskiing has announced a 42% increase in the size of its industry-renowned ski and boarding terrain.
"The quality and diversity of our ski terrain is at the core of what makes Mica so special," says Paul Norrie, President of Mica Heliskiing. "Now our customers have an additional 120 square miles (310 square kilometers) of terrain to explore at, what I'm convinced is, the world's premiere destination for powder skiing and boarding."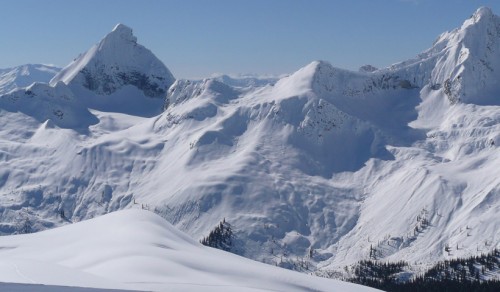 Mica's newly acquired terrain adds to an existing mix of world-class tree-skiing and spectacular high-alpine runs. "There are several new 900 meter (2,950 foot) naturally-gladed tree runs just waiting to be skied, all less than a two minute flight from the lodge," says Shane Kroeger, Mica's Head Guide. For those special blue sky days, Mica's expansion also offers an entirely new zone of glaciated, north-facing, alpine terrain. "With helicopter landings as high as 3,150 meters (10,350 feet), this new zone will provide our longest runs to date. There are sure to be a number of new 'Mica Classics' come the end of the 2013-14 season."
The amendments to Mica's operating tenure were achieved through a multi-year give-and-take process. "This is a win-win story," says Mica's President, Paul Norrie. "More ski terrain is obviously great news for our customers. As exciting, though, is the fact that these changes now also better protect critical habitat for mountain goat and caribou." Working directly with a variety of stakeholders, the process ultimately saw Mica exchange a remote portion of its previous operating area for the newly acquired terrain. "The tenure area that we returned to the province is critical for the sustainability of Mountain Caribou in the BC Rockies. We are delighted to be a part of a solution whereby the natural environment is better protected, and our customer experience benefits as well."
Mica is proud of the recognition it has received in publications such as Powder Magazine, the Robb Report, and Skiing Magazine (Best Heliskiing in Canada, 2011). Following the completion of Mica's spectacular new lodge last season, the recent terrain expansion again demonstrates the company's on-going focus on providing its customers with the very best product in the industry.