Early Snow Season Forecast
After one of the mildest winters on record, Canada will get a healthy dose of snow and cold this season, with storms in the east, white stuff in central Canada, and dry cold in the west, a new winter forecast predicts.
The annual AccuWeather.com winter forecast released Wednesday suggests those staples of the traditional Canadian winter will make a comeback in 2012-2013.
The forecast comes after Canada's third warmest winter on record. Environment Canada reports that the national average temperature for the winter of 2011-2012 was 3.6 degrees C above normal. The warmest winter on record since nationwide records began in 1948 was in 2009-2010, at 4.1C above normal.
In a blog, AccuWeather.com Expert Senior Meteorologist Brett Anderson said the forecast takes into account a number of factors, including jet stream patterns, sea surface temperature anomalies and the lower-than-normal extent of sea ice in the Arctic.
Autumn could start early across the southern Prairies with an earlier-than-normal freeze from Alberta to Manitoba. However, folks from Regina, Saskatchewan, to Winnipeg, Manitoba, should still get their fair share of warm afternoons for the month of September as invasions of chilly air get replaced by brief, but significant warmups.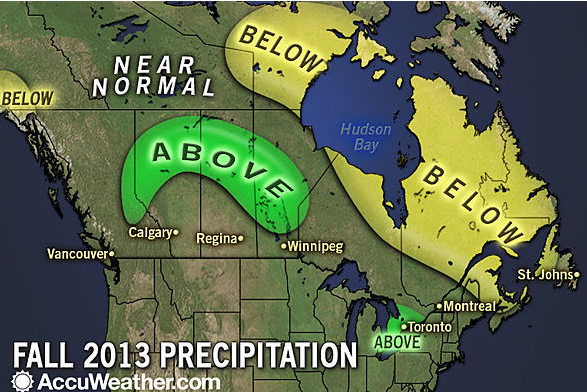 The ski and snowboard season across the Canadian Rockies should start on or ahead of schedule as colder, snowy weather gets established from October through November.
After an unusually hot and dry summer, much of British Columbia can expect more seasonable conditions this fall as the rainy season returns on schedule.
The period from late September through October actually could end up slightly wetter than normal in the Vancouver area as the Pacific storm track gets directed toward southern British Columbia.