Ian McIntosh joins Backcountry.com pro team
Kootenay pro freeskier Ian McIntosh is a hard-charging specimen of brute strength, raw talent, and pure style. Today, Backcountry.com, online specialty retailer of premium outdoor gear, welcomes McIntosh to their 34-member Pro Team. No slouch to slashing turns on steep powder faces, electrifying crowds at comps, or bringing his A-game for the camera, McIntosh joins an elite athlete roster that includes some of the most talented professionals in skiing, snowboarding, mountaineering, rock climbing, and mountain biking.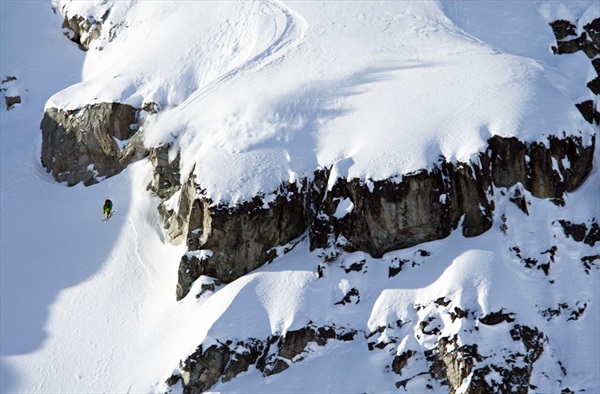 "We are super excited about having Ian join our program," said Jonny Atencio, Sports Marketing Manager at Backcountry.com. "I've known Ian since he was competing on the Freeride Tour – the guy is a beast. His ability to seek out and ski unique lines is uncanny. We look forward to Ian's contributions to our community, as he will be providing product reviews, answering questions, and uploading photos and video to the Backcountry.com site."
Growing up in the Kootenays in interior British Columbia, Canada, McIntosh has had skis strapped to his feet since he was two-years-old. As part of a family that was crazy about skiing – his grandfather is still an instructor at age 85 – McIntosh honed his love for speed and technique as a ski racer during his early years. But, as he got older, the big mountains were calling McIntosh's name – which prompted a move to Whistler in 2004.
"Having an avid skiing family, it was natural for me to gain a huge love for the mountains," said McIntosh. "I was ski touring with my family from age 10. But, my love for powder quickly overtook my love for racing and I found myself completely addicted to skiing and over the years became a successful ski bum. Many things helped me hone my skills over the years from racing to the Freeski Tour, but I attribute everything to those early years as a kid where my passion for the mountains was born."
After a few years on the freeride comp circuit, where he took second-place overall on the Freeski World Tour in 2004 and won the North American crown the same year, McIntosh was invited to shoot with leading ski-film company Teton Gravity Research (TGR) – a dream of his. This opportunity opened the door to McIntosh's ski career as he has become a leading athlete in not only TGR's annual ski films, but many others including Warren Miller and Red Bull productions. In 2007, McIntosh won the Powder Magazine Awards "Breakthrough Performance" honor.
"My skiing today is evolving as I become more and more focused on going places where not many have ever been and skiing mountains and lines that have never been ridden," said McIntosh. "Bigger challenges and bigger rewards are waiting. Joining Backcountry.com is super exciting for me because I think that I embody the backcountry spirit as strong as most."
Consisting of some of the most experienced and respected athletes in the world, Backcountry.com's Pro Team members are ambassadors – and affiliates – for the site. Through adding product reviews, updating their personal profile pages, and sharing news across their social media channels, Backcountry.com athletes are an extension of the brand helping connect and engage customers and the Backcountry.com community.