Northern Escape needs your Help
Northern Escape, a heli ski operation in Terrace, has an outdoor apres ski bar known as the "ice bar". The bar has been a great success and is up for a new name and they'd like your help!
The bar is not made of ice as its present name suggests, it's offers has a fire table and heat lanterns that give off quite a bit of warmth, it is actually quite comfortable inside. If you have been there and experienced the ambiance, or see the photograph below, you know it is in need of it's own unique name.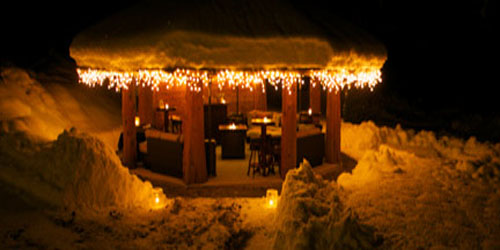 So far, the suggestions have been the Tail Rotor, Bitter End, and Ullr's Bar, Teddy's Bar to name a few.
Let them know what you think. Do you have a better suggestion, or have a favorite from the suggestions?
They have a poll on our facebook page so you can weigh in. Answer the poll question about the name change to let your opinion be heard!
If you're not on facebook you can email your opinion to: aaron@neheliski.com
Northern Escape also has a new "ski boot" shot glasses and binding system for a Shotz Ski. They have now found the right powder ski which has been mounted and ready for some team drinking fun.
The ski was donated by Owen, one the guides and has been quality tested by our trusty staff and certified as good to go. On your next visit, after an epic day in the mountains, grab three of your ski companions and step up for a Shotz Ski!
Pictured in the inaugural round on the Shotz Ski is (L to R): Yvan, Aaron, Clair and Owen. Notice that Yvan is using both hands on the shot ski…he obviously needs more training.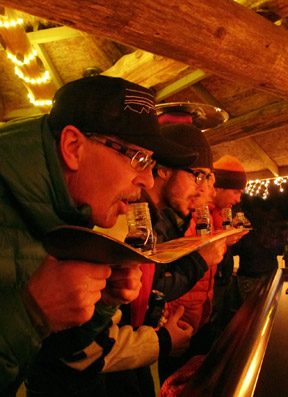 And when a 40,000 ft day of powder in the Alpine needs to be further celebrated, the town of Terrace is a mere 15 minute drive and the local party scene can be loads of fun!