Revelstoke Mountain Resort: Road Trip or Vacation?
by Jon Turk
What's the difference between a road-trip and a vacation? I asked my friends:
➢ Duh. I don't know. Is this a trick question?
➢ A road-trip is something we would go on. Our parents took vacations.
➢ Well, I wouldn't take my wife on a road-trip.
➢ Road-tripping has a certain camping/dirt-bagging element to it.
➢ A vacation is a time-out from life. A road trip implies a journey of discovery.
Last week my wife, Nina, and I drove up to Revelstoke and checked in to a three room suite at the Sutton Place Hotel, a 32 second walk from the base of the gondola at Revelstoke Mountain Resort (RMR). We had a kitchen, a couple of flat screen TV's, a gas-powered fire place, a balcony, and a huge bed with more pillows than I knew what to do with. The polite, accommodating ski bum, who was doing a great job of pretending to be a concierge, invited us to a wine and cheese party after check-in. Definitely a vacation.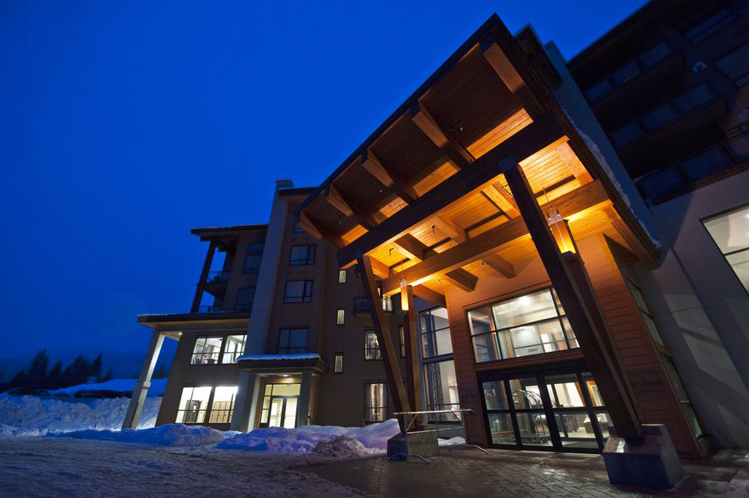 But, enough of that; we came to go skiing. Revelstoke Mountain Resort boasts North America's greatest vertical at 1,713 metres (5,620 ft). Historically, it receives 9-14 metres (30-45 feet) of snowfall a year. The day we arrived, there just happened to be overcast skies and no new snow. We rode up the gondola through the fog, with misty glimpses of white-tipped cedar forest below. About midway up the mountain we broke through the clouds to bright sunshine: a winter beach.
Skiing transcends the real or imagined difference between vacation and road-trip. Once you get off the lift and feel your skis underfoot, it doesn't matter whether you slept in a ditch that night or a 5-star suite – what matters is the bite of sharp edges on groomed hard-pack or the flex of responsive skis on new powder. It turns out, by the luck of the draw, we had hard snow. No worries. If real estate is about "location, location, location", skiing is about "terrain, terrain, terrain." After a couple of groomers to get the lay of the land, we explored into a mixed bag of tight glades and cliffs on the edge of North Bowl, and then into the Bowl itself. Many ski areas have a "north bowl", but the RMR version is a beast into itself. Ringed by a series of cliffs, with 9 entry points on the map, and many more if you are a better skier than I am, the bowl is a piece of a mountain, with a backcountry feel. The higher entries involve a 20 minute boot-pack from the top of the Stoke Chair, onto a sub-peak of Mt. MacKenzie. Standing on the summit, I looked across the seemingly infinite, uninhabited, snow-covered central ranges of British Columbia, which hold many memories. I was a climber before I was a skier and I thought of all the routes I had done, and the many more I hadn't, and then, later, the ski days at Rogers Pass just to the east, with zillions of backcountry lines. After a moment of reflection, we dropped off the ridge into a run called "Powder Assault" along the right sign-line of North Bowl, which was steep — but not too steep — heads up mountain skiing, the kind of line you can shred every day and not get bored or complacent. A skier's mountain.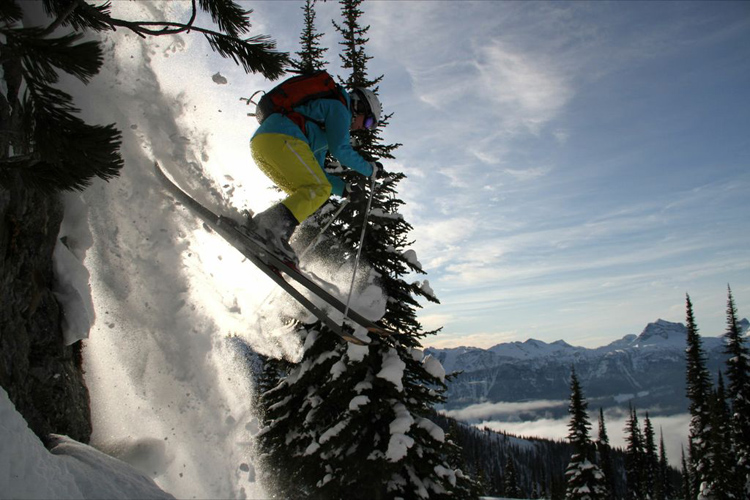 After three glorious days at RMR, we moved out of our fancy digs, met two friends from Fernie, and retired to the backcountry surrounding the town of Revelstoke, just in time for the next storm. Younger athletes revel in "big air" but for me, the ultimate is to ski complex, unfamiliar mountain terrain in the storm, when the snow is so fresh that it sluffs like water and chases you down the mountain, when you're skiing with one eye tuned to the slope below and the other watching what's coming from behind, your mind so busy that you forget to feel joy until the run is over.
On the way home, I got a blowout on my snow-machine trailer tire, and had to abandon the sleds on the roadside because, space-case that I am, I had no spare. Yeah, on a road trip, you're more likely to have a mechanical breakdown than on a vacation. But it doesn't matter. After a week in Revelstoke — at the resort and in the back country — my legs were tired, my body exhausted, and my email Inbox full, so we limped home to Fernie just in time for a 30 cm dump — when all those petty inconveniences were forgotten — because we had to go skiing.