Serwa and Simmerling win ski cross gold and silver
Kelsey Serwa put Canada's ski cross team back on top of the podium for the first time this season when she struck gold and teammate Georgia Simmerling claimed silver in Sunday's action-packed women's final in Innichen-San Candido, Italy.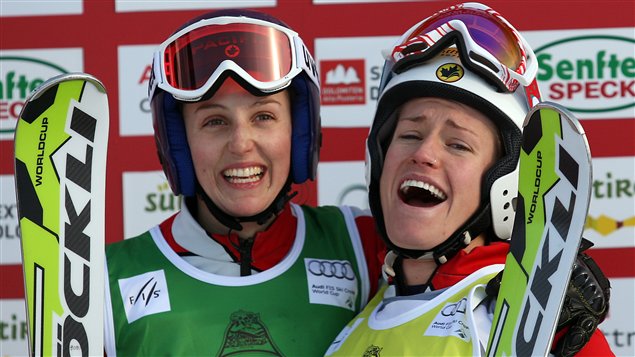 Serwa, of Kelowna, B.C., celebrated winning her first race since returning from injury on the same hill where she won the opening two World Cup races of last season. The reigning ski cross world champion looked back to her best as she dominated her quarter-final and semifinal before moving from last to first in a thrilling women's final which saw Swiss ace Katrin Mueller spin out and French veteran Ophelie David disqualified. Simmerling, of West Vancouver, B.C., stayed out of trouble to finish second and claim her first career World Cup podium.
On the men's side, Brady Leman, of Calgary, Alta., saw his podium streak end at two straight silvers when he went down in his semifinal. Leman won the small final to finish fifth and close the gap on overall ski cross World Cup leader Armin Niederer, of Switzerland, who was 18th. Louis-Pierre Hélie, of Berthierville, Que., advanced to his first semifinal since making the switch from alpine to ski cross and he finished eighth.
"I was talking to (ski tech) Rod Honey and I told him, 'I'm sick of losing. I'm going to win today,' " said Serwa, who has been trying to build her confidence from race to race after returning from a knee injury. "I'm hungry for it now. Before, I didn't put that expectation on myself. Now, I'm ready to race."
Serwa was dominant out of the start gate in the early heats and won her quarter-final with ease before doing the same in a stacked semifinal. That heat saw Swiss skier Fanny Smith – winner of the opening three World Cup races – embroiled in a tight duel with her teammate Katrin Mueller, which the latter ultimately won to bring Smith's win streak to an end. Smith still leads the World Cup standings with 336 points, while Norway's Marta Hoeie Gjefsen is second with 207 and Serwa sits third (195).
In the women's final, Serwa didn't have a good start but she used all of her experience to stay low through a section of rollers and move from fourth to first. From there, all the action went on behind her as Mueller and David made contact before Mueller went down. Serwa crossed the line in first and raised her arms aloft as she celebrated her first victory since winning both races here in 2011.
"The cool thing about this sport is that you can have so many different scenarios and end up with the same result," said Serwa, who went virtually unchallenged en route to gold here last season. "Last year I skied by myself and here today I had to pass three people to take gold. This almost feels better because I had to work for it."
Canada ski cross assistant coach Brent Kehl said all the hard work Serwa put into the team's return to snow program – following her knee injury – has paid off.
"Kelsey's skiing is fantastic – it was just her confidence," Kehl said. "Now that she's going shoulder to shoulder with the girls she's getting back into the (mindset) to race."
Simmerling made her ski cross World Cup debut in 2011 after making the switch from alpine and on Sunday, she kept her cool amid the chaos going on around her to claim her first podium. Simmerling advanced from her semifinal after contact between Gjefsen and France's Marielle Berger Sabbatel. In the final, Simmerling went wide to avoid contact with Mueller after she went down. Although Simmerling crossed the line in third place, David was disqualified following a review and the West Vancouver native was awarded second place.
"I'm a little surprised but I'm super excited," said Simmerling, whose previous best result in ski cross was a ninth-place finish in Innichen-San Candido last year. "A lot of stuff happened in front of me and I kind of worked my way around it.
"I'm excited for the rest of the season. Today taught me to ski smart."
Earlier in the day Marielle Thompson, of Whistler, B.C., fought incredibly hard but didn't advance from a very tough quarter-final. In a heat that featured contact and multiple position changes, she ultimately lost out to Mueller and Smith, who finished 1-2, respectively. Thompson placed 11th Sunday.
On the men's side, Leman had to fight his way through the early rounds as he struggled out of the start gate. He needed all of his experience to advance from a scrappy round of 32 heat before making a remarkable charge to the line in his quarter-final to steal second place from France's Jean Frederic Chapuis in a photo finish. Leman then fought his way from fourth into second in his semifinal before he went out as he battled for the lead in traffic.
"It was a tough race today. I made a lot of good passes and was racing really hard to be in the finals again," Leman said. "In the semis I was in second place when another racer made a very aggressive inside pass over a negative turn. He clipped my tips and it spun me out, causing me to crash and miss out on the finals."
Leman won the small final with ease to stay in the hunt for the men's Crystal Globe. Niederer leads the men's ski cross World Cup standings with 273 points, while Leman is second with 245. Switzerland's Alex Fiva, who won the men's final Sunday, is third with 244 points. Germany's Daniel Bohnacker was second on Sunday and Sweden's Victor Oehling Norberg was third.
"I've been happy with my skiing so far this year," Leman said. "Four races and all top six finishes is a very strong start to the year. I'm excited now to go home for some much needed rest and some training to get ready to fight for wins in the New Year."
Hélie advanced to the semifinals for the first time in his ski cross career when he stayed ahead of teammate Dave Duncan, of London, Ont., to finish second his quarter-final. Hélie was last into the first turn in his semifinal and wasn't able to close the gap. The former World Cup downhill racer, who made the switch to ski cross this summer, was fourth in the small final to finish eighth overall – a career-best result. Duncan was 10th.
"I'm skiing better and better – learning lots. Today was my first small final," Hélie said. "There's so much expectation when you go from alpine and I'm kind of glad it hasn't been easy. It shows everybody that it's a different sport and you need to learn so much. I was so lucky to be able to learn from my coaches and teammates – I'm pretty lucky to be part of the best team in the world."
Mathieu Leduc, of Comox, B.C., was third in his round of 32 heat and finished 21st overall. Tristan Tafel, of Canmore, Alta., was fourth in his heat and did not advance. He placed 25th.
Next up for Canada's ski cross team is the World Cup stop in Les Contamines, France, from Jan. 11-12, 2013.