Mumbo Jumbo
by Jon Turk
Most serious powder hounds ski a combination of lift access and back country terrain. When it has been pukalating for days, when avalanche danger is extreme and trail-breaking difficult, it sure is grand to let the ski patrol make conditions safe, and then ride the lifts, fat and sassy, to enjoy face-shot vertical. But when the skies clear, the resort gets bumped up, and they start playing Christmas Carols at the base lodge, then there is nothing better than skinning up through a silent snowy forest with a small group of close friends, with rocky peaks looming, to reach a ridge-top above untracked chutes and glades.
So, given the fact that we, as skiers, depend on resorts for much of our winter fun, is there ever a time when we should oppose area development and expansion? I feel that development has its place; but, as with everything in this crazy mad-cap world we live in, there has to be a balance.
Here's one for you. Arizona Snowbowl, in Flagstaff Arizona, has decided to use sewage effluent in their snowmaking operation. I'm not making this up. So you're ripping down a groomer, cross your tips and crash head first into the snow – and it's akin to dunking your head into the toilet bowl. In my humble opinion, this is yukky.
Well, you see, Arizona Snowbowl is located in the middle of the desert and as any First Grader knows, deserts are short of precipitation, so snowmaking becomes an attractive option. But, given the desert thing and all, water of any kind is scarce …. so let's think now. Ahah! What about of all that wonderful stuff that we flush down the toilet. Yeah! Let's filter out the poop and the toilet paper, process what's left, add chemicals, and make snow out of it.
Everyone is entitled to their own opinion, but in this case I side with the pesky environmentalists. No snowmaking with poop water.
OK, at this point you're either with me, or frothing at the gums, calling me a Marxist obstructionist. Fine. Let's go on with a second example.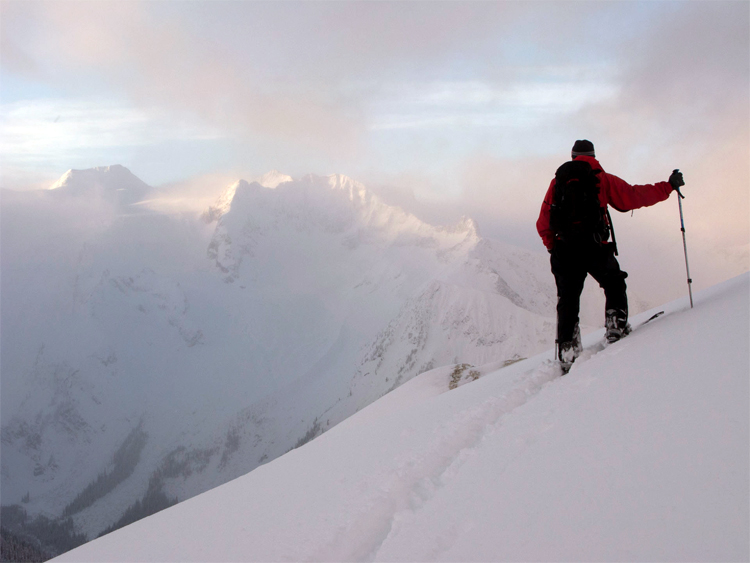 About 20 years ago, a ski area development company called the Jumbo Glacier Resort decided that it would be just hunky-dory to build a gargantuan, $½ billion to $1 billion ski resort, and (presumably) make gobs of money in the process, on land in the Purcell Wilderness Area that they didn't own, but was conveniently owned by the people of Canada. One problem was that the majority of residents in area didn't like the idea. These logger, skier, small-business-owner-environmentalists, who, incidentally, staunchly support Panorama, the local ski resort downstream from Jumbo, argued that the Jumbo Glacier Resort cuts deeply into the Purcell Wilderness, which is a pristine mountain backcountry playground and habitat for numerous animals including grizzly bears. It is also a sacred region for the Ktunaxa Nation, whose aboriginal rights are recognized by the Canadian Constitution. And anyway, many argue, it is a bad business idea, and likely to create an economic and environmental disaster, to pollute our lands and waterways for generations to come. Moreover, the long term problems are likely to fall, eventually, on the shoulders of local citizens. And to add insult to injury, traditional access for back country skiers in Jumbo Pass shares the same corridor that will be used by the clients of Jumbo Ski Resort. Will access be denied to the best ski touring in the area, to that wilderness solitude that is so essential to our spiritual well-being, by the realtors who want to develop the valley into a mega-resort?
Last month, ignoring two decades of local opposition, the Province of British Columbia created a new town, called the Jumbo Glacier Mountain Resort Municipality on 6,313 hectares of public land. Since there are currently no people, houses, or businesses in this new town, government officials asked the resort corporation to appoint a mayor and city council. Since there was no tax base, the province generously decided to pay all administration salaries out of taxpayer dollars – upwards of $200,000 the first year.
The Union of BC Municipalities, (a consortium of mayors of BC towns and cities) said, "Huh?" How can an unelected body make land-use decisions for a population that doesn't exist?
Jumbo Creek Conservation Society president Bob Campsall called the decision equivalent to creating a "Banana Republic in the Jumbo Valley." He continued, "We want to know how much B.C. taxpayers will be asked to pay annually … when the Jumbo Mountain Resort will begin applications for government grants to build the multi-million dollar road that crosses more than a dozen avalanche paths on its way to the future town site?"
As I said, skiers use ski resorts. We also burn gasoline, fly in airplanes, own computers, and all that stuff. I don't know anyone who lives in a cave and eats roots and berries. But I do think that some megalomaniac corporations have a propensity to run wild. As a result, we need to draw lines, to protect our physical health and our pocketbooks and to protect our snowy wildernesses which, I argue, are the foundation for our spiritual health.
(For more information, and an opportunity to contribute to or join the 22-year struggle to save the Purcells, please see: keepitwild.ca)
(Jon Turk is the author, most recently, of The Raven's Gift: A Scientist, A Shaman, and Their Remarkable Journey Through the Siberian Wilderness)