Merry Chatter and Happy Powder
The broad face rolled away in a seemingly limitless expanse, dropping without a ripple or interruption for probably 1,500 vertical feet. One by one the skiers and snowboarders pushed off and were quickly lost in huge plumes of the feather-light moondust that had fallen the night before. My turn came and the descent went by in a blur of effortless turns, not so much a series of face-shots as simply an entire face-run of powder until the slope gentled, trees appeared and the group gathered back together.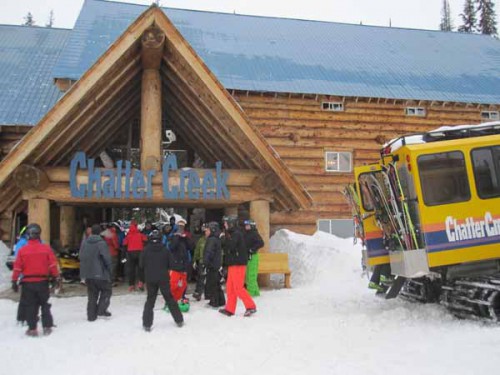 It was the Spruce Slide at Chatter Creek, and this descent would have counted as pinnacle skiing anywhere on the planet, at any time of the season. For it to be this good before the middle of December was more than I had dared hoped for. The eclectic group of skiers and riders I was with certainly agreed. They ranged from Ryan and Rob, two very high-end snowboarders from Banff, to Mike and Dan, first-time snowcat skiers and, in Dan's case, making his very first (and very joyful) turns in powder, plus Dean and Gavin from Fort St. John, B.C., and Scott from Edmonton.
Multiple early-season snowfalls and relatively stable, warm (for winter) weather had built up a deep and solid base that was not only fantastic to ski on, but stable enough to allow Chatter's guides to venture past the trees into some terrain that often doesn't open until mid-season. As well as some great steep tree runs like Tin Horn, there was enough stability and mid-winter light for our guide Steven to get us to RUZM ("Right Up Zee Middle&rdquoblink1.gif, a rugged high-alpine run that feels like the Alps – and my favourite run from my last visit to Chatter – plus the even steeper Rez Dog, a tight couloir.
For everyone, the three days of incredible powder, superb dining and free-flowing après went by all too fast. It was a safe bet that the groups coming in after us were in for just as great a time.
– George Koch, Calgary Powder Pig