Powder Magazine Ski Town Throwdown a sham
As a Canadian I scowl at Powder Magazines recent "Ski Town Throwdown". For those of you who haven't seen the Facebook promotion I apologize for exposing the sham. Following is Powder's pitch and there was a supporting promotional video that appears to have been deleted.
"Maybe you have the whole winter. Or maybe you just have a weekend. Where do you want to ski? In our November issue, we used MIT graduate Groomer Gary's algorithm to rank the top 32 ski towns in North America. Now, it's your turn. We used that ranking to give each ski area a seed, just like March Madness. Then we put them in brackets. Welcome to Ski Town Throwdown. Vote for where you want to ski. The best ski town in North America will rise to the top."
Sounds OK and you're wondering what my issues are, right? Well, check out their contest map: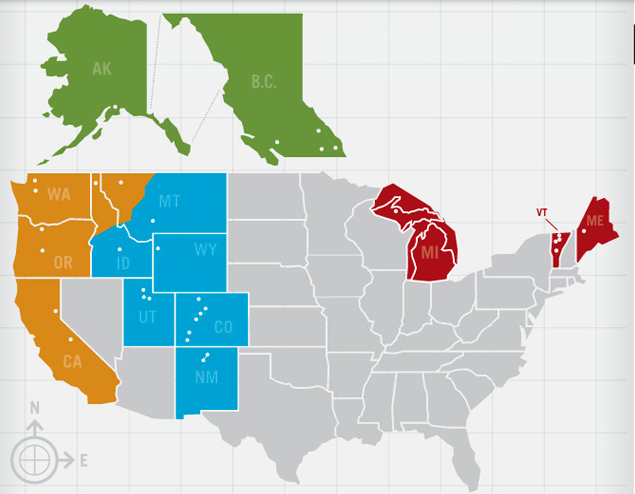 What happened to Canada? Florida's on the map and all of the US? Is BC the only ski province in Canada? And consider their participating towns: Seattle, Government Camp, Odgen, Marquette, Bellingham. Ha!!
As a Canadian I do not associate these towns with skiing. Where's Alberta and Quebec—two great ski Provinces with some ski towns that you might have heard off: Banff, Jasper, Mt Tremblant, Mt Saint Sauveur, Quebec City or even Collingwood, Ontario or Calgary for that matter. These are ski towns!
This past week Whitefish MT beat Whistler…what? Whitefish is a nice little family ski hill—in Fernie (60 minutes north) we call it flatfish. Unlike most of the other participating US towns, Whitefish is a ski town and a great place to party with good restaurants, however it's not Whistler.
My other issue is to vote you need to "Like" Powder's Facebook page. The marketers are licking their chops with their successful promotion—the dollars are rolling in with their now larger skier audience. I could accept the marketing ploy if they had properly represented Canada with the best skiing and ski towns in North America.
In my opinion Powder clearly has lost any ethics they once had. The old days of Canadian knowledge and influence at Powder Mag with Leslie Anthony at the helm are long gone.
So what is Powder Magazine attempting to accomplish? Nothing more than a few Facebook likes and please their advertisers. So do Canada a favor and don't "Like" their myopic American promotion.
Say no to Powder Mag's promotion, "Like" no friends on a powder day!