How to Heliski
Heliskiing will be one of the great adventures of your skiing life, but there are a few things you should know before you hop in a bird.
You don't need to be a ski movie superstar to go heliskiing, but you need to be sure you are ready. Are you familiar with backcountry skiing? Do you regularly hit back-to-back Gondies on Aspen Mountain, or treat Whistler's Peak Chair like your playground? If so, you're probably ready.
If your pace is back a bit on the throttle, it would be wise to seek some feedback. Hire an instructor or mountain guide familiar with helicopter skiing to give you an idea if your skills are up to snuff. If your moves need some honing, a few days in expert hands can make a world of difference. And the better you ski, the more you'll enjoy your heli trip. As an added benefit, if you're confident in your physical skills, your mental strength will be there for you when it's time to make those first turns.
2. Pick your time.
Selecting when you go can be as important as where you go. Many companies offer three- to five-day packages at either the beginning or end of their operating seasons, providing a more economical alternative than the typical 5-7 day package.
If you're a first time heliskier. the shorter packages also offer you a less demanding trip. Heliskiing can be physically exhausting, and you may find that 3 full days is as difficult as skiing hard all day everyday for an entire week in your home ski area.
Have you tree skied before, or do you prefer open slopes? If you choose a company in parts of the lower 48 or Canada, early season weather generally permits less access to the open terrain that is above the treeline. This results in more vertical bagged in the naturally gladed terrain which many heliskiers claim as their favorite goods. But if you're a rookie to tree skiing or intimidated by trees, anxiety may overshadow your enjoyment, at least at first. For the tree-phobic, a late-season adventure could be the better call.
3. Build the right group.
Friends trips are fantastic, but be careful when forming your group. Your buddy may have a sense of humor that would keep you and your gang in laughter all week, but nobody will be smiling when he or she keeps everyone waiting run after run.

4. or, Go it alone.
How groups fit together is important in heliskiing. All riders need to be at a similar technical the level and speed for things to work well. If you prefer the ease of traveling solo, getting slotted into a good group is no problem for most well established companies. You'll find yourself challenged to ski your best, and probably make a few lifetime friends back at the lodge.
5. Have the right equipment.
As with any adventure, proper gear will make all the difference. No matter how you love your midfats with 85mm underfoot, they will not cut it. Fortunately, almost all companies have a rental fleet of modern fat skis for their guests, eliminating the need for you to travel with your own. Avalanche rescue gear is also supplied, eliminating the need to purchase this gear. If you already have an avalanche beacon and are practiced with that, the familiarity will grant you peace of mind.
If you're thinking of bringing a daypack for your own personal effects, be sure to confirm that you'll be able to bring it aboard before fly day. The chopper has space limitations, and it could make for a big squeeze if everyone in the group has his own pack. Plan accordingly, wear the appropriate clothes for the given day, and have a jacket with good storage pockets for essentials.
Do you wear eyeglasses or have little patience with goggles that continuously fog up? Then look into getting some fan-ventilated goggles. The inside of the chopper is a high-humidity environment, and normal goggles to fog up easily between runs. The right eyewear is an essential system to have dialed.
6. Have a back-up plan.
On stormy days you may be harvesting great powder in a resort, but these same conditions can mean a down day on your heli trip. Down days are a part of the game and should be anticipated. In recent years several companies have begun to adopt contingency measures, and for a nominal additional fee you can opt to get out in a "poor weather friendly" snow cat for some cat skiing. This is an invaluable alternative and its well worth considering companies that offer this. Back-to-back down days, though uncommon, can send you in to leagues of deep restlessness waiting for the weather to clear.

7. Watch your line (especially on a board).
In order to get the most out of a trip, boarders in particular need to be adept at reading terrain — deep pow riding skills include planning the end of your run. Selecting the right nuances of terrain for traversing means you'll slide easily into the pick up for the next lift. Otherwise, you'll miss the line and half to wade through thigh-deep powder to the helicopter. No fun, for you or your waiting friends.
8. Choose a helicopter.
Some heliski operators can handle upwards of 75 people a week, and others market a more intimate experience catering to 16-20 guests. But the big difference is in the size of helicopter the company uses. Larger companies often utilize a Bell 212, which means you could be skiing in groups of up to 12 skiers. The smaller companies often use an Astar B2 that has a group size capacity of four skiers and a guide, which many skiers prefer. Some operate with both types of machines, and you can take your pick depending on the package you end up choosing.
9. Know what "unlimited" means.
Package prices are determined by how much vertical feet/meters of skiing is guaranteed in the package. Several companies now offer no additional charges for extra vertical footage skied above the guaranteed amount, though some offer this an up-front premium at $1200-$1400. Others companies charge per 1000 ft over the amount included in your package.
It's difficult to determine if paying an up-front premium will be worth it. On some weeks, particularly later in the season when the days are longer and you have more ski time, then it could be a good investment to go with a company that offers this. But if you go earlier in the season, or have a week that has poor weather you may get your guaranteed vertical but not ski enough to get the value out of the extra premium you're paying.
10. Consider your down time.
Lodges are a significant part of the Heli experience, since when you're not skiing, you're pretty much in the air or in the lodge. While most operations offer comfortable accommodation, the quality can vary despite similar package costs. You won't need to collect water and light fires, no matter where you go, and you won't go hungry. But some operators go above and beyond, with yoga rooms and gyms, gourmet menus and wine cellars, and on-site massages.
The lodge's location matters, too. A spectacular lodge in the backcountry is fantastic, but if you're the type of person that would rather check a couple of bars in the nearby town on a down day, you might source out a less isolated lodge. These days, you can even find heli operations based out of luxury hotels.
Perhaps most importantly, don't be afraid to pick up the phone or drop a few emails to the operators you're considering. Don't hesitate to ask about the details, and be honest about your needs.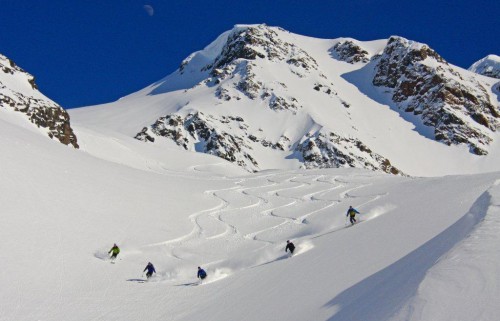 Source:
Matt Wylie is a Canadian Certified Heliskiing guide and fully certified ski instructor currently teaching at Aspen Mountain Ski School. Wylie has heli-guided extensively in Canada and Chile.