CAA Backcountry Workshops
In November, the Canadian Avalanche Centre along with our sponsors Columbia Basin Trust and Revelstoke Credit Union (for Revelstoke) and Resorts of the Canadian Rockies (for Calgary) is hosting two, full-day Backcountry Workshops.
Saturday, November 10 – Revelstoke – Performing Arts Centre
Sunday, November 18 – Calgary – U of C, KNB 132 (B block Kinesiology)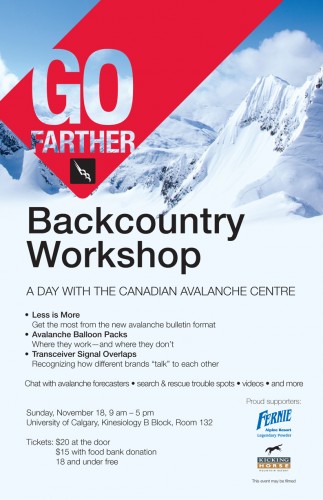 Both these sessions are packed with CAC and industry professionals and experts speaking on a variety of subjects to help you prepare for a safe, backcountry season. Sponsors, trade show, booths and lunch-time activities will all be a part of these workshops.
Both workshops run 9:00 am to 5:00 pm. Cost $20. ($15 with a donation to the local food bank). 18 and under free. No registration required.
Backcountry Avalanche Workshop Road Tour – Evening Presentations – FREE!
With support from our long-time sponsor, Columbia Brewery, the CAC will also be presenting evening Backcountry Avalanche Workshops in BC this fall. These are 2 hour presentations on avalanche safety and awareness targetting all backcountry recreationists. Delivered by a CAC forecaster, these presentations are a great pre-season primer to get you thinking about backcountry safety.
Kamloops: Nov. 24, Leading Edge Motorsports – 6 – 8 pm
Prince George: Nov. 25, UNBC, Canfor Theatre – 7 – 9 pm
Valemount: Valemount High School, date TBD
Sicamous: Dec. 8, Best Western – 7 – 9 pm
Merritt: Dec. 9, Merritt Civic Centre – 6 – 8 pm
Rossland: Dec. 12, venue TBD
Nelson: Dec. 13, LV Rogers Secondary School
Check avalanche.ca for updates on locations and timesof these evening BAW presentations