RED Mountain Expansion
This past summer, British Columbia's Red Mountain Resort began developing Grey Mountain, the ski area's most significant expansion to date. This two-year project will add almost 1,000 acres — and a whole new mountain – to the resort's current 1,685 acres of in-bounds ski and snowboard terrain.
Red has a reputation for world-class tree skiing and expert steeps spread over 2,919 feet of vertical drop. The Grey Mountain expansion will open up a vast store of intermediate runs on what resort officials are calling "3-D skiing."
"Grey, like Granite (Red Mountain's other peak), is volcano-shaped, which allows for 360-degree skiing around the peak from a single lift, a topographical feature few resorts in the world are lucky to have," explains Red Mountain Resort president and CEO, Howard Katkov.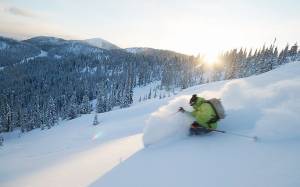 "Not only does the expansion increase Red's skiable terrain by about 1,000 acres, it also adds wide terrain variety -– from groomed cruising runs to tree glades and alpine chutes -– that will create a whole new world for Red skiers," adds Chris Cushing, a principal at ski resort planning and design firm Snow Engineering (SE) Group. "This project is one of the most dramatic transformations of an existing major ski area that we've seen and it is one of the largest — if not the largest — single-season ski area expansion projects in North America in several decades."
For perspective, the 997-acre expansion on Grey alone is about the same size as the entirety of Mt. Baker Ski Area in Washington. With the new terrain, Red Mountain Resort will be larger than Jackson Hole Mountain Resort in Wyoming. The Grey Mountain expansion will place Red in the top three percent of North American ski resorts in terms of skiable acreage.
For the upcoming winter season, Red Mountain will be shuttling skiers in groups of nine to the top of Grey using a new Alpina Sherpa, which is in essence an oversized snowmobile-bus. Red has purchased a quad chair built by Leitner-Poma for installation on Grey Mountain next summer. At the completion of run development, Grey Mountain will have 22 new ski runs, leaving plenty of trees and terrain variations in between.
"We see the Grey expansion as an expression of our commitment to the next generation of skiers and snowboarders, as well as to our current fans," explains Fran Richards, vice president of marketing at Red. "We share their values when it comes to mountain recreation and feel a deep responsibility to protect the wonderful ski experience at Red. We truly see Red as an endangered species, one of the last resorts that celebrates the true skiing experience: offering wide open terrain and all the amenities one expects, without the rampant commercialism that has significantly changed the face of the ski experience throughout North America. Many recreational skiers and snowboarders have never experienced a pure world like Red and we'd like to show them that the other side is, in fact, better."