2013 Rogers Pass Powder Weekend
The Rogers Pass area in winter is a powder skier's dream, but it can also be intimidating if you don't know where or go or how to get started. Our Powder Weekend camp is new this year and is designed around strong downhill skiers who consider themselves beginner or intermediate in the backcountry. This is a chance for participants to explore the Rogers Pass area, learn backcountry skiing and safety skills from a certified ACMG guide and experience some of the best powder skiing anywhere.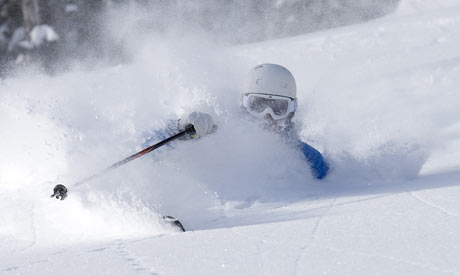 There will be an emphasis on development of skills, including route finding, avalanche hazard awareness and backcountry skiing techniques. The classroom will be the awesome powder slopes of Rogers Pass. Evenings will be spent in the cozy comfort of a backcountry hut (A.O. Wheeler Hut or Asulkan Hut, depending on group strength and conditions), meals will be hot and plentiful and the snow will be deep.
Discover the sport of backcountry skiing with the ACC! Who can say no to fresh tracks on nearly every run?
Level of Difficulty:
This camp is designed for beginner to intermediate backcountry skiers. An advanced level of fitness and intermediate to advanced downhill ski abilities are essential for your enjoyment.
2013 Planned Itinerary (subject to change):
Day 1 (Thursday) – meet at the Glacier Park Lodge in Rogers Pass at 8:00am, group debrief followed by ski into the A.O. Wheeler Hut or the Asulkan Hut
Day 1 – Day 3 – Enjoy the Rogers Pass Powder!
Day 3 (Sunday) – Ski back out to the highway
Price: $895+tax
Included:
ACMG Guiding throughout the camp
Accommodation at A.O. Wheeler Hut or Asulkan Hut for the week
Meals starting with lunch on Day 1 and ending with lunch on Day 3
All group gear
Not Included:
Breakfast on Day 1
Dinner on Day 3
Transportation to/from Glacier Park Lodge in Rogers Pass (participants will be expected to use their own vehicles to carpool)
Personal gear (see equipment list)
Public Event · By Alpine Club of Canada
March 28, 2013 at 8:00am until March 31, 2013 at 5:00pm in UTC-07