Ski Season Begins
By Jon Turk
It's the first day of spring, crocuses are poking their purple heads out of the ground down in the valleys, ice dams are breaking up in the rivers, and April Fools Day is just around the corner. Folks are already escaping to the desert, Hawaii, and Costa Rica to avoid the slush and slop of mud season. Yeah, yeah. When I was younger, I'd drag out my kayaking gear around now, to loosen up for high water season. But, then, in 2006, I flew up to Alaska to ski in the Wrangel-St Elias instead – and I got hooked. Not necessarily on Alaska, but on spring skiing. Now, I haven't boated high water in a half a dozen years and I'm sure that my roll is rusty.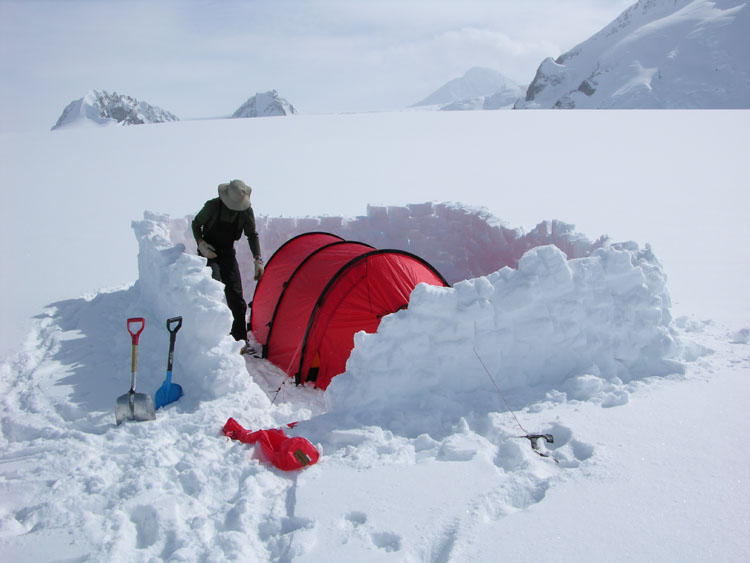 Spring:
It's so weird, you can ride your mountain bike all summer and fall, till you're blue in the face, yet on your first ski run in November, no matter how strong you think you are, your ski-legs are noodles. Yet, four months later, the strength is finally back. Why squander all those hard-earned muscle fibers cramped in the cockpit of a kayak, or on a sunny white-coral beach?
In the summer, in southeastern BC, the low elevation mountains are a nearly impenetrable thicket of slide alder and devil's club. Try bashing through that stuff in a heavy July rainstorm someday, or don't bother, and trust me; it's yukky. In November, when all the keeners are waxing up their skis, the alder is still a formidable foe. Add to that, gullies are steep-walled and unfriendly, making early season skiing a serious bash-a-thon. But now, we're squeaking close to a 4 meter snow-pack. Not only that, we've just had (or are still in the midst of) a huge, shake-the-monkeys-out-of-the trees wet-snow avalanche cycle. Yahoo. When conditions finally stabilize, the gullies will be smooth, snow-filled undulations, and the alders have long-since been buried.
Yup. Ski season has just begun. We've got three months to go before the sun-cups become so embedded that it feels like you're skiing moguls. Three months. Despite the dire warnings and the obviously extreme avalanche danger at the moment, the snow will change, metamorphose, and stabilize pretty soon. Yes, I know, we're not going to experience cold face shots till next year – that's just one of those problems that we have to deal with in life – hopefully without the need for a psychotherapist. Enough rambling. My current touring skis are a little soft in the shovel, so I'm thinking about taking my downhill bindings off my K-2 Hardsides and mounting them up with my AT set-up. So, if you see me rambling into town around noon, headed for the ice cream parlor, with a shit-eating grin on my face, there's a good chance you can guess where I've been.