K-2 Skis
By Jon Turk
By sheer dumb luck, Nina and I skied up to the sign line moments after the Ski Patrol opened the coveted Snake Ridge at Fernie Alpine Resort. We followed the traverse out and now stood above Snake Main, which was totally untracked, with 30 cm of new POW, glistening, undulating, and beckoning. Synchronicity. We were on new skis. And not just any old new skis, these were secret weapons. Very subtly, the sidewalls of my K-2 Hardsides bear the distinctive red, white, and blue stripes that evoked memories of Telluride, late 1970's and all the craziness that went with being single, 30-years old, and blissfully unemployed. The ski that everyone coveted, at that time, was the K-2 Competition Slalom, with patriotic, American, red, white, and blue stripes.
My mind wandered back even farther back into my youth. I played hockey when I was in high school, and firmly believed that skiing was for sissies, people unwilling — or unable — to smash and be smashed against the boards. One day my mother invited me into the living room for a chat, always a dangerous sign.
"Why don't you take up skiing?" she asked.
I squirmed.
"You know, you'll never meet a 'nice Jewish girl' playing hockey. Ski bunnies," she explained emphatically, to be sure that I got the point. "Skiing is about ski bunnies."
So…… Mom dragged me down to the sport shop and told the clerk that I was a strong, athletic young man and needed the strongest, most aggressive skis available. We walked out with 215 cm Head GS Comps. Black tops, yellow bases, steel construction, built like an I-Beam. We went up to the local ski hill and zoomed around, crashing into anything that stood in my way. That was 1962.
I had the theory, at the time, that you replaced gear when it broke, and since those Heads were never going to break, I figured that they were mine for life. In 1968, I was skiing at Lake Eldora, above Boulder, Colorado, still smashing into things, because I still couldn't turn. I rode the lift with some stranger who very kindly offered to take me down to the rental shop and usher me into the modern world. I walked out with a pair of 185 cm orange and yellow K-2 Cheeseburgers.
And for the first time in my life, skiing no longer resembled hockey. It had ceased being a contact sport. I turned, I carved, and I didn't run into a single snow-making machine all afternoon.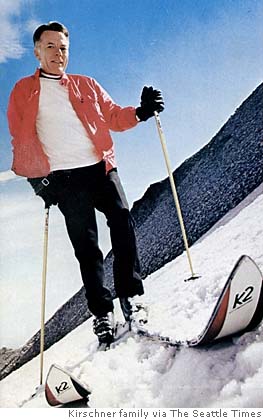 In the early 1950s, Bill Kirschner had a small factory on Vashon Island, a short ferry ride from Seattle, making reinforced plastic splints and specialty animal cages. He then had the bright idea that you could use this new material – fiberglass — to make skis. In 1961, a year before I bought my steel misery-sticks, Bill wrapped fiberglass around a wood core to make a torsionally rigid, "torsion box" ski. He sold 250 pairs in 1964. They flexed when you wanted them to flex and didn't wimp out under pressure. The word spread like lightning and sales jumped to 1,600 pairs the following year, and 21,000 pairs the year after. Bill and his brother Don formed a company, named K-2, for the two Kirschner brothers and also the second highest mountain in the world.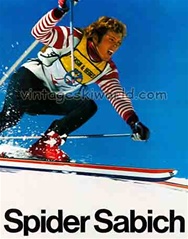 The K-2 Cheeseburger was the first ski ever made with bright graphics – colors not found in nature. Arguably, it was also the first ski built specifically for aggressive play, for a skier who wanted performance, but not for racing. Simultaneously, K-2 was also refining its competitive line. On April 7, 1968, in Heavenly Valley, California, Spider Sabich, skiing for K-2, won the first World Cup race ever won on a pair of North American-made skis.
In 1971, 41 years ago, I dropped out of the career path my mother envisioned for me, and made outdoor play the primary focus of life. A few years later, Steve Mahre starting winning races on red, white, and blue K-2 skis. Over his career, he won 9 World Cup events, one World Championship, and one Olympic silver.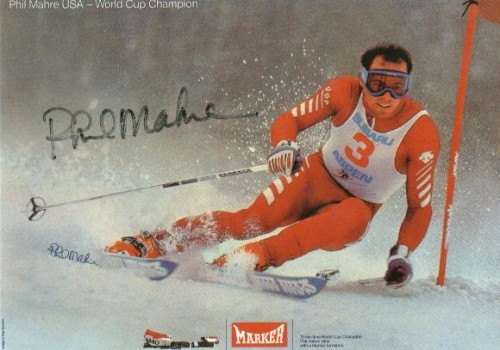 So now, in January of 2012, I stood above Snake Main with fancy new graphics, wide skis with sophisticated construction and Early Rise….. and just a smidge of nostalgia in the coloration of the sidewalls. Enough time for reflection. Other people were tramping up the traverse behind us. I looked over to Nina, nodded, and dropped in. The skis floated me to the surface and carved effortlessly, showering fall line face shots. Whiteness below. Then, out of the corner of my eye, I glimpsed that familiar blue parka. Nina was passing me! Oh yeah, I forgot to tell you. My wife was on a brand new pair of K-2 GotBacks. Whether she is a 'ski bunny' or not is for others to decide.