Travis Rice at Baldface
Travis Rice has enjoyed his share of powder and here can be seen making his fair share of powder turns at Baldface Lodge.
Rice has filmed outstanding video parts year after year, producing jaw-dropping shots like his switch 540 over Chad's Gap in Utah, a 120 foot backcountry gap jump. On top of that, he has won several US Opens, an X-Games gold, and an Icer Air gold, where he landed the first double rodeo 1080 in competition.
In 2008, Rice co-produced and starred in the snowboarding film That's It That's All. This film featured Troy Blackburn, Jeremy Jones, Mark Landvik, Terje Haakonsen, Nicolas Müller, Scotty Lago, Pat Moore, John Jackson, Jake Blauvelt, Danny Kass, and fellow Jackson Hole residents Bryan Iguchi and Kyle Clancy. Rice's part in That's It That's All, which included the first ever double cork 1260, heavily influenced his sweep at the Transworld Magazine Rider's Poll. He won Rider of the Year, Video Part of the Year, Standout of the Year, and Readers' Choice award.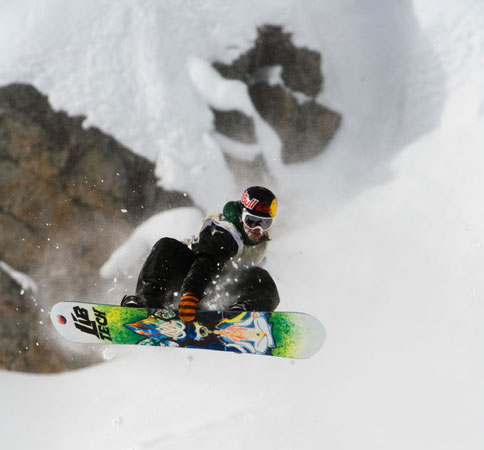 On September, 07 2011, Rice released The Art of Flight, a film made in collaboration with the same team behind 'That's It, That's All, including John Jackson, Mark Landvik, Nicolas Müller and Jeremy Jones,Scotty Lago,Mark McMorris. The film divides the snowboard community, described as one of the best snowboard movies ever made, with a budget being well into the millions of dollars by some, and seen as a boring and soulless display of budget, far from the snowboard spirit and the respect of nature by others.