Dismal or Epic Powder Season?
Where can you find ample snow and good skiing? Well those who consistently have great snow have it and the others are suffering. Whistler just experienced 72cms in the past 7 days. Terrace reports the the deepest snow on earth!
Nobody is suffering more that the United States where other than Taos, New Mexico who has received more than 8 feet of snow this year and Alkyeska resort in Alaska which has been walloped by winter storms, happens to be next to Terrace.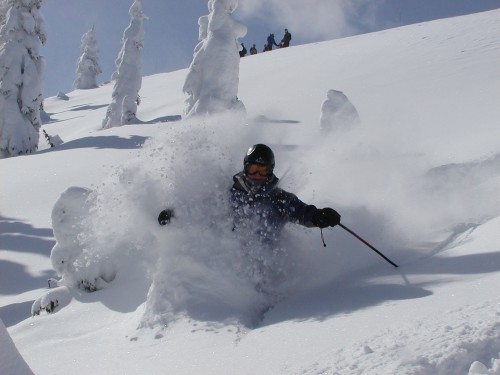 The lack of snow is taking a serious toll on the ski industry and other forms of winter tourism.
"Nationwide, the lack of snow is costing tens of millions of dollars in winter recreation, restaurant, lodging and sporting goods sales," the Associated Press (AP) reported.
Reporting for Climate Central, CWG's Andrew Freedman talked to David Robinson, director of the Global Snow Lab at Rutgers University, who said snow cover in December was 11th least extensive in the 46-year satellite record.
Wundergound.com's Jeff Masters found "95% of the country that normally has snow at this time of year had below-average snow cover" (in December).
The Northeast snow situation is also bleak, although the big resorts have been able to make snow. Areas relying more on natural snow have been hard hit. The AP offered this anecdote: In Maine, up to 100 people would be skiing on 12 miles of trails on a good day at Carter's Cross-Country Ski Center, but the center has yet to open because there's no snow on the ground.
Normally flush with powder, Western ski resorts are struggling.
Rob Katz, chief executive of Vail Resorts, Inc. which operates resorts in Colorado (Vail, Beaver Creek, Breckenridge, and Keystone) and the Lake Tahoe area of California and Nevada (Heavenly and North Star), issued the following statement (according to Bloomberg):
For the first time in 30 years, a lack of snow has not allowed us to open the back bowls in Vail as of January 6, 2012 and, for the first time since the late 1800s it did not snow at all in Tahoe in December
December was described as a "miserable month for Utah skiers" by Jim Steenburgh of the Wasatch Weather Weenies blog. Less than 25" of snow fell at Alta compared to 131.5" in December 2010.
In Western Canada the snow coverage is below average however still decent. Bob Mitchell from Fernie said, "The conditions remind him of 1975, when it snows the skiing will be great as the base is solid". Rossland, Nelson, Revelstoke, Golden, Louise and Castle all have decent bases and the skiing is good. Here we are waiting for the next snow cycle, may it come soon!