Bad Snow at Christmas Time
By Jon Turk
Babushka (Grandmother) Daria Moolynaut was born in a reindeer skin tent on the tundra in northeast Siberia about 107 years ago, during the reign of Czar Nicholas II. Her father was a reindeer herder; her mother a shamanic healer. Moolynaut survived the Bolshevik Revolution, the terror of Stalin, the entire rise and fall of the Soviet Empire, and the terrible economic dislocation of Perestroika – freedom – bandito capitalism.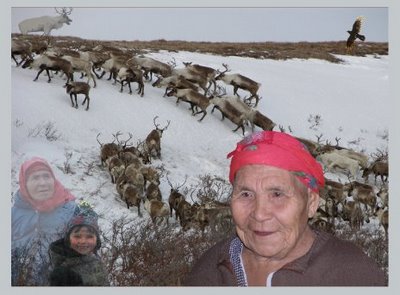 I was fortunate enough to visit with her on five separate expeditions, in the small Koryak village of Vyvenka. We never spoke many words because she was seldom talkative – but she journeyed to the Other World on my account to ask Kutcha the Raven to heal my damaged pelvis. And on three occasions, Moolynaut and I ate the Amanita together. At this Christmas season, the Amanita is especially poignant. It is the magic mushroom of the tundra people, and many historians claim that Santa Claus dresses as a magic mushroom, with a red cap and white tassels, just like the tundra fungi. Ho ho ho and all that. Santa Claus is a reindeer herder after all, not a desert nomad.
I reminisce, not necessarily because it is Christmas, but because Moolynaut died a few weeks ago. In the enclosed photo, taken about 10 days before she passed away, she looked as vibrant as I always knew her to be, with alert, penetrating eyes. I was always a little afraid of those eyes, because they saw so much, both in the Real World and in the Other World.
The day after I received the news, I went skiing in the back country near my home in Fernie. December has not been a good snow month in the East Kootenays. We've had a few flurries and a lot of wind. The high country is a deadly mixture of boiler plate and breakable. The low elevations are choked with alders, and there is a little OK-skiing in mid-elevation trees. On that day, my partner and I skinned up above the timber to a wind blasted ridge. The snow was blown away clear down to the rocks, and we boot-packed the last few hundred meters, so we wouldn't wreck our skis. The snow felt like tundra snow – and Moolynaut's memory was with me.
Is it a stretch to say that if I learned anything from the old shaman woman, it is that we humans are not in control — not driving the ship? The tundra, the mountains, and the oceans do not listen to us, or care about powder turns.
I am a skier, and love my turns just like everyone else. But bad snow is just another excuse to slap on the skins, hike up, and enjoy the mountains — as our Stone Age ancestors would have enjoyed them. Skiing is just the added bonus slathered haphazardly on top of the joy of being out there.
You can read more about Moolynaut in Jon Turk's latest book, The Raven's Gift. And don't forget to vote for Jon Turk for "National Geographic Adventurer of the Year" at http://adventure.nationalgeographic.com/adventure/adventurers-of-the-year/2012/vote/