Avalanche Danger Very High
Skiers both in backcountry and in-bounds areas are advised to use extreme caution this week as the avalanche danger soars.
Both backcountry and in-bounds skiers face heightened avalanche dangers this week, according to the latest bulletins from the Canadian Avalanche Centre.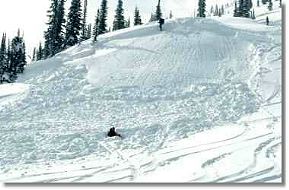 There are level 4 danger ratings in effect throughout the Sea-to-Sky, Whistler Back Country and South Coast Inland regions. At this level, the danger of avalanches is "very high," particularly at alpine and treeline levels and "travel in avalanche terrain [is] not recommended."
Recent storms bringing new snow loads have amplified avalanche hazards.
At Whistler-Blackcomb resort itself, backcountry alpine conditions were rated high on Wednesday, considerable at treeline and moderate below treeline. The alpine danger was expected to moderate to considerable by Thursday.
The resort reported that new storm snow is "loading into weak, shallow snowpack areas."
"These old facet weaknesses from November are just waiting for the right trigger to cause them to collapse and propagate into the surrounding terrain," the resort reports. "Careful route finding will be very important after every storm cycle for the next little while."
"Size-two slabs" have been dislodging since Saturday, and Wednesday's snow is now adding to the danger at the resort.
On the North Shore mountain slopes, including Cypress, Seymour and Grouse, the CAC's latest bulletin puts the treeline danger level at high and the below treeline danger level at moderate. Those ratings are expected to shift by Thursday to "considerable" danger ratings.
The North Shore bulletin advises keeping an eye out for storm slabs, as mixed rain and snow over the next few days can lead to problems on steep or convex terrain. The area has so far seen about 40 centimetres of new snow, wet and heavy with rain, settle over a crust.
The Northwest Coastal and Northwest Inland ranges also carry a level 4 danger rating, as do the North Columbian Monashees and Selkirks, the Purcells, South Columbia range, Kootenay Boundry ski country, Banff, Yoho and Jasper.
The North Columbia Cariboos, South Rockies and Glacier Park and Kananaskis carry a level 3 rating, which means the danger of avalanche is "considerable," with "careful snowpack evaluation, cautious route finding and conservative decision making essential."
The CAC reports there have been 146 avalanche deaths in the country between 2000 and mid-2010, an average of 14 avalanche deaths annually over the past decade.
Most avalanche deaths in Canada in recent years have been the result of backcountry skiing and heli skiing, according to the statistics. The newest group to experience fatalities are snowmobilkers and this is due to improvements in technology allowing riders to attain avalanche terrain. For detailed statistics download the pdf here: Fatality Statistics_ CAC media page(1)
Over the holidays, there have already been some near-misses in B.C.
On Monday, there were four skier-triggered avalanches in the Purcells. On Tuesday, another skier triggered an avalanche in the Lizard range, but was not buried or harmed. On Dec. 26 a skier accidentally triggered a size 2 avalanche in the Spearhead range. Luckily, according to the CAC, it was only "a close call that resulted in some lost skis, but fortunately no full burial or injury."