TLH Heliskiing Eurocopter B4
TLH Heliskiing will be one of the only heli-ski operators to fly small groups in the luxurious Eurocopter B4 Helicopter this winter. With more room in the aircraft for guests and all seating facing towards the front, all passengers will be able to enjoy the spectacular views with comfort.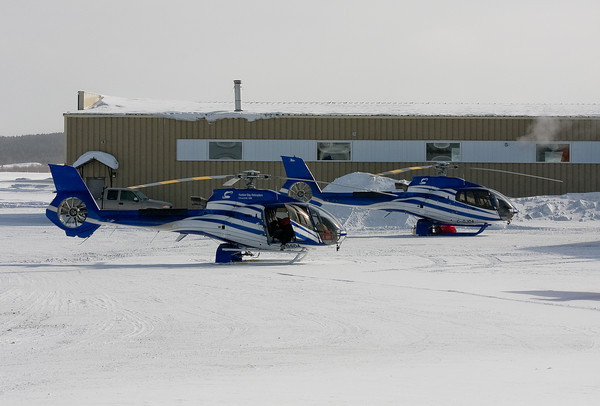 Operations Managers at TLH Heliskiing have just confirmed that guests will now be flying in a new Eurocopter B4 helicopter from long term partner Wildcat Helicopters this upcoming winter season. Guests coming to heli-ski or snowboard at TLH on either the Small Group package or the Private Platinum package will fly in this new state of the art helicopter, providing the optimal in comfort and safety.
The Eurocopter B4 helicopter is a single engine helicopter designed with a wider body and cockpit to provide additional comfort and better external viewing ability for passengers. Along with the larger interior the helicopter features seating for 4 people along the back and an additional 2 seats in the front next to the pilot. With all seats facing forward guests will enjoy better viewing capabilities and will be less likely to feel nausea or motion sickness during flight.
Along with the obvious improvements in space and passenger comfort the B4 helicopter was designed with an enclosed tail fan rather than the traditional tail rotor. This not only reduces the constant hazard of the tail rotor, due to the spinning blades, the enclosed tail fan also reduces noise by up to 50%. A quieter helicopter ride, with more space, provides passengers with a more enjoyable all round experience, part of TLH's mandate to provide the best possible backcountry heli-skiing or snowboarding experience for guests.
Guests who've chosen the Small Group package at TLH Heliskiing will have the pleasure of flying in the new B4 machine either in 1 or 2 small groups, of 4 or 5 people along with their 2 mountain guides. Those who have chosen the luxurious Private Platinum package will have the option, depending on group numbers, of flying in either the spacious Bell 212 helicopter or the new Eurocopter B4 machine, providing yet another option for guests to customize their heli-skiing or snowboarding experience while at TLH.
TLH Heliskiing is committed to providing guests with one of the best backcountry skiing experiences in BC. Based out of Tyax Wilderness Resort on the shores of beautiful Tyaughton Lake in the South Chilcotin Mountains, TLH Heliskiing offers all of our heli-skiing packages with Unlimited Vertical and a maximum of two groups per helicopter. As a member of Helicat Canada, safety is the top priority and the experienced guides at TLH are here to provide you with the safest most enjoyable heli-skiing experience possible. For more information about Helicat Canada please visit, helicatcanada.com .
For more information about TLH Heliskiing and their helicopters please visit, tlhheli.com or call 250-238-2204 or toll free in the USA and Canada 1-800-667-4854.