Adventurer of the Year
Every year, National Geographic nominates ten individuals or teams for the "Adventurer of the Year". There are skiers and riders, of course, and always a Himalayan climber or two. But then the list goes Gonzo and you never know what to expect. Last year Alex Honnold was nominated for climbing big walls in Yosemite without a rope or protection, just a pair of shoes, a chalk bag, and unimaginable strength, skill, and confidence. This year, street trials rider Danny MacAskill made the cut by pedaling over fences and trains, jumping subway steps, and generally redefining how we play in urban landscapes.
I couldn't even think about accomplishing what Alex or Danny performed. But, as a lifelong outdoor sports enthusiast, I thrill to see the breadth and depth of human accomplishment, at the number of ways each and every person can find enjoyment and fulfillment — and push the boundaries – anywhere on this marvelous planet.
As a correspondent for powdercanada.com, it's my job to root out exciting developments in the world of Canadian skiing, or more generally in the world of outdoor sports. So I would be remiss in NOT reporting this National Geographic award. But now I have a confession to make: I am one of the nominees for this year's contest.
Normally, I'm a mountain skier. Skiing, to me, means seeking the cleanest, longest, untracked powder line in the biggest mountains I can find, within the boundaries set by avalanche conditions and my own body. I don't normally do traverses or trudges. But last summer, pro kayaker Erik Boomer and I become the first to circumnavigate Ellesmere Island, one of the most complex and physically demanding polar expeditions of all times. The total journey covered 1,500 miles over FLAT, remote, frigid, icy, polar bear infested terrain. Whereas the shortest distance to the North or South Pole is about 450 miles, this expedition covered over three times that distance.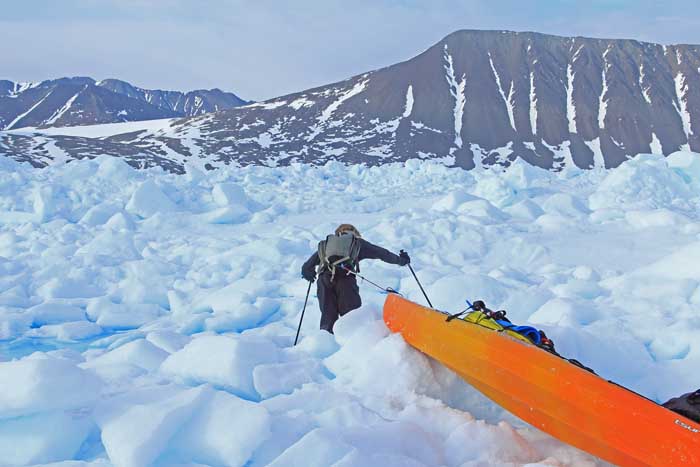 The expedition was not only long but also technically demanding because we traveled over four different environments, pushing both gear and human bodies to the limit:
1. For the first month, we traveled on skis over dry snow, pulling our kayaks as one would pull a sled on any arctic expedition.
2. By mid June, we trudged through frigid, thigh deep, supersaturated slush and melt-water pools.
3. The crux of the expedition came in the Nares Strait, along the northeast coast, where the entire North Pole ice pack compresses into a narrow, constricted channel, as tippy, dangerous mobile floes are driven southward by currents and wind.
4. Finally, we paddled the last 500 miles in walrus, polar bear and ice-congested polar seas.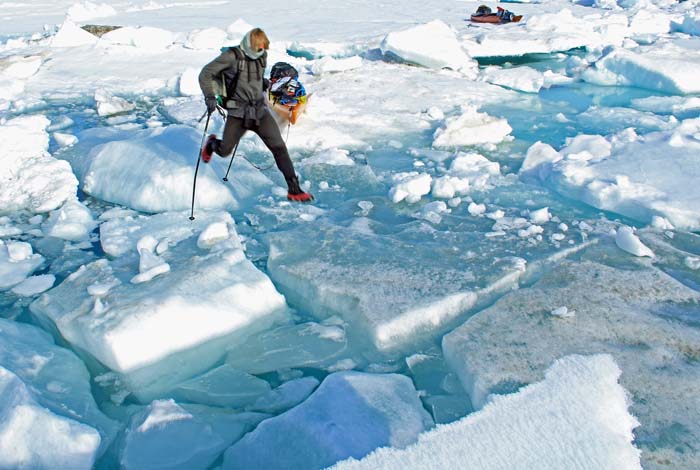 I'm 65 years old, and this was my retirement party. Boomer is in his mid twenties, and although he has made a name for himself as an extreme whitewater kayaker and waterfall jumper, this was his first lengthy expedition. For both of us, this was a passage into the clockworks, the inner mechanizations of an untrammeled environment, and our own minds. In the end, I pushed myself so hard that 39 hours after we completed the expedition successfully, I broke down metabolically and had to be medivaced by air ambulance to Ottawa.
The final, grand prize winner for adventurer of the year will be chosen by popular vote. You can vote for Erik and me once a day, every day, between now and January 18.
http://adventure.nationalgeographic.com/adventure/adventurers-of-the-year/2012/vote/
And if you want to read more about the expedition, visit: http://www.jonturk.net/content/Ellesmere and http://www.jonturk.net/content/Blog