Skiers and boarders find powder
Are you a skier or boarder and looking for deep powder? The free Salomon Powfinder mobile application has the best powder forecasts for the best resorts and is available on iPhone and on Android since September 15th.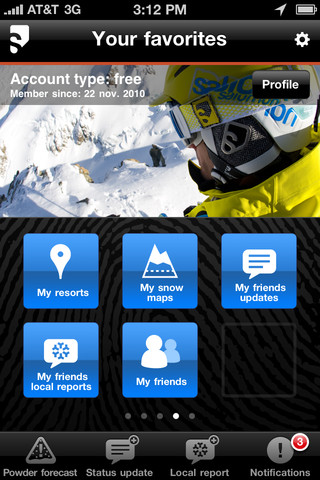 In addition, over 110 freeride resorts in North America are added to the wePowder service, the first weather service in the world purely aimed at finding deep powder. The service already included 114 freeride resorts in Europe.
The Powfinder application combines the powder forecasts from Dutch weather man MeteoMorris with information from local users. Riders are thus assured of the best snow. "This is sustainable winter sports," said a user of the app already. "Because you do not need artificial snow anymore!"
The Powfinder app is the result of a collaboration between the Dutch start-up wePowder and the French winter sports company Salomon.
What is Powfinder?
Powfinder offers access to the wePowder service, the first in the world to be purely focused on deep snow and combining real-time information from local users with automated snow reports. Through Powfinder we want to put the best powder-service in the world in your pocket. Our service will help you discover the best freeride-resorts in Europe and North-America, share local snow reports and ride the deepest powder with your friends. But that's not all! Powfinder makes it easy to connect with locals, discover new playgrounds and stay up to date on the latest safety conditions. With the detailed daily powder forecasts of MeteoMorris, you will always know where to go!

"MeteoMorris? Who is that?"
Morris is the weather man of wePowder. With years of experience in predicting mountain weather for winter sports and extensive knowledge of the mountains chasing storms for many years, he knows always knows where to go (to find the deepest powder). And that's the bottom line while skiing and boarding.

What's new in this version?
-Support for Android and iPhone
-Covering North-America and Europe
-Better interaction with local communities
Get Powfinder for free!
Really? Yes. You can get Powfinder for free because of our partnership with Salomon.

What are users saying about Powfinder?
-Best. Snow reports. Ever.
-Last year I've only had powder days. It's incredible how wePowder is right over and over again.
-Other sites? They don't have MeteoMorris. Computers are quite often wrong. Nothing but wePowder.
-If everyone was skiing or snowboarding with the wePowder philosophy? That's sustainable winter sports. Because there isn't a need for artificial snow anymore!
About wePowder
wePowder is focused on finding the deepest riding conditions out there, pure and simple. We believe that powder is not a matter of chance, but a matter of choice. Our goal is to help freeriders make the best choice by offering the world's first real time, location-aware powder service.
Who we are
We're three friends that are wildly passionate about the mountains and making waist-deep powder turns. Three friends that unfortunately find themselves in one of the flattest and low-lying countries of the world: the Netherlands. To find the deepest powder, we have driven thousands of kilometres to and through the Alps for over twenty years. With a lot of years of riding in North America, we noticed that skiers and boarders in the US and Canada show the same passion as European riders. Maybe even more, cause everybody seems to ride powder there. In these years, we found out where and when to find the best powder conditions, no matter what. We have learnt to unlock the mysteries of intricate weather patterns, found out about interesting local phenomena and discovered tiny gems that have remained hidden to the tourist eye.
What we do
With daily powder forecasts, comprehensive snowmaps and real-time local reports from deep within the mountains, we aim at offering the best, most complete and up-to-date weather service for freeriders in the Alps, Scandinavia, the Pyrenees and North-America. And with detailed information on over a 250 freeride resorts, you will always know exactly where to go.