Eric Pehota's little Logan
Certain factors can prove advantageous for a young freeskier in his pursuit of a pro career. Living a short drive from Whistler-Blackcomb is one of them. Growing up with big-mountain ski pioneer Eric Pehota as your dad is another.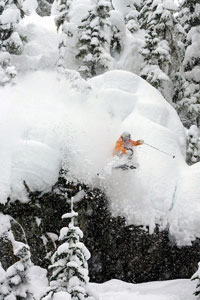 It comes as little surprise, then, that Logan Pehota, 16, is highly regarded among the next generation of big-mountain skiers. Led by his father, the Pemberton, B.C., native was backcountry skiing when he was 6. At age 12, he became the youngest to ski the precipitous central couloir on Mt. Currie, the start of a line with 7,000 feet of vertical relief (which he first climbed at age 9). Logan skied it with his father and Kye Petersen, son of Eric's late ski partner, Trevor Petersen, on New Year's Day 2008 — the 20th anniversary of Trevor and Eric's first descent.
Last February, competing against some of western Canada's rowdiest men at the visual-inspection-only Wrangle the Chute — a combined big-mountain and freestyle event at Kicking Horse — Logan shocked everyone by finishing third in a field of 44. His father was in attendance that day and watched Logan filet a pillow line stacked with 15- and 20-foot drops.
"That's when I went, 'Holy s—, man, you've got a really good eye for lines,'" Eric Pehota said. "He sees things that he actually has to explain to me. He's pretty unreal to ski with."
Logan, who is entering 11th grade and weighs just 125 pounds, went on to compete at the invitation-only Red Bull Cold Rush in Silverton, Colo., in March. Nearing the bottom of his big-mountain run, he spun a 360 off a 25-foot cliff, crashed and broke his arm. When asked how much ski time he missed, he replied: "Maybe a weekend?"
He receives gear from Rossignol, Oakley, Leki, Giro and Arc'teryx (the same companies that sponsor Eric) and he quit ski racing a year ago to focus exclusively on freeskiing. "I know I have an advantage over other kids because of my dad," Logan acknowledged. "He knows where everything is, and he's handing down his lines to me. He tells me to be calculated and only do something if I'm comfortable doing it."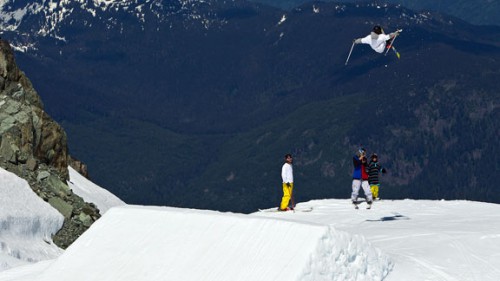 Over the past year, Logan began to apply that approach to manmade features in addition to natural terrain. He spent much of his summer lapping the Camp of Champions jump line, and after a little more than one season in the park, he lands switch cork 1080s, flat-spin 540s, switch rodeo 540s and cork 900s. He said he's working on double cork 1260s and double flat 900s, and plans to enter more slopestyle and big-mountain competitions this winter.
"I don't think he has any weaknesses," said Kye Petersen, 21, who skis with Logan a few times a year. "He's a really well-rounded skier. If I'm lucky, I'll be skiing with him a lot in the future. I see him being one of the best."
By Devon O'Neil
From ESPN