Lowest Ski Season Pass Price Ever
Jackson Hole Mountain Resort (JHMR) announced today a reduction in the price of the Grand Pass® for the upcoming winter. This news follows the introduction of the Grand Pass® last winter which represented a 25% discount from the previous All Mountain Pass and the lowest season pass price in the recorded history of the mountain. This year's Adult Grand Pass offers unlimited skiing and riding for the longest season ever, a scheduled 135 days, at an August price of $1195, down from $1255 last year. The Senior Grand Pass will be offered for $815.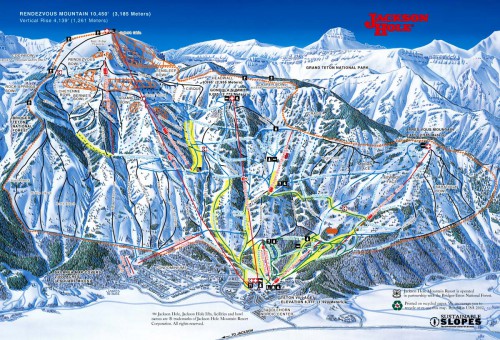 The Grand Pass® offerings include attainable options for youth that provide unlimited access to the next generation of skiers and riders. The Youth Grand Pass for ages 6-14 will be $159, the Student Grand Pass for ages 15-18 will be $289, and kids under 6 ski for free. All Grand Passes® include a free START bus pass, complimentary summer tram access, discounts at JHMR restaurants, retail and rental stores, as well as complimentary JH Ski Club membership.
JHMR President Jerry Blann stated "In 2010, the goal of the Grand Pass was to make unlimited, all mountain access attainable to more skiers and riders than ever before. One year after its introduction we can say with confidence that the Grand Pass program has been an unmitigated success. The Grand Pass grew the number of skiers and riders who took advantage of unlimited access by more than 60% over the prior year. This year, at a price of $1195, we are further deepening the discount to make the Grand Pass an even better value proposition for more people than ever before. Furthermore, investments for the 2011-2012 season total over $4.5 million; these include the addition of the Marmot Lift which will connect South Pass Traverse with the top of the Gondola, and a redesign of the Kids Ranch facility. Both of these investments will improve traffic flow and provide a better experience for all of our guests. The excitement will also last longer this year as the mountain will be open from Thanksgiving weekend to Easter, for a total of 135 scheduled days. The combination of price reductions and tangible improvements represent a huge stride in improving access and the resort experience for our local and regional guests."