Chatter about Chatter Creek
Chatter Creek crossed my radar almost a decade ago. Tales of snowcat skiing unlike any other were circulating among my ski friends. Snowcat skiing on steroids was the description that most resonated with my powder addiction. My excuse for not rushing there was a combination of great skiing out my back door, a steady diet of jet, diesel and race fuel, and entering into parenthood. These excuses kept me in the realm of hearing the tales but not creating my own.
Mark Gallup, a well-known snowboard photographer turned skier, moved to Fernie this year as the new owner of the local outdoor shop The Guides Hut. He helped put Fernie on the map a decade ago as a shareholder of Island Lake Lodge and propagator of powder images in countless magazines. One invitation to Chatter and with a family pass, I'm on the trip!
Mark's Chatter group has been a decade in the making. He has been going to Chatter every year since a trip with Arc'Teryx in 2001. In the beginning this group wall all boarders, this year these was only one. Each year this was his holiday and the group was top notch. It consisted of his wife Beth, a couple of cousins and sidekicks from Kelowna and friends from Comox to Calgary and Fernie.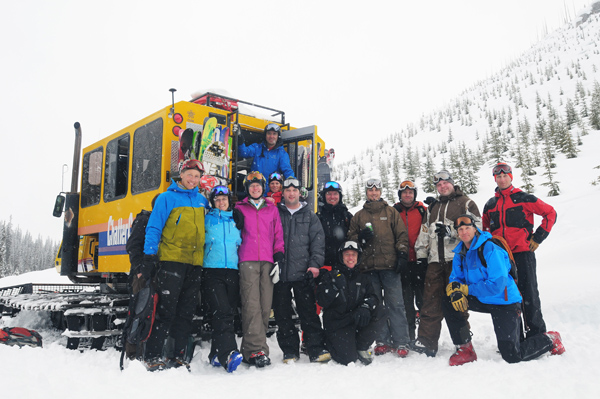 We all met at the base area in Donald BC, located 28 kilometers west of Golden. In its heyday, Donald was a divisional point on the Canadian Pacific Railway. But, in 1897, when the CPR abandoned Donald in favor of Revelstoke, Donald disappeared into obscurity and is now a small sawmilling community and the base area of Chatter Creek.
I was pleased to see Rob Allison, K2 Rep extraordinaire, and his famous K2 van loaded with all the latest powder tools. He assured me that we'd be skiing the best powder tools available. K2 is the industry leader with Rocker technology and the Powder Rocker absolutely rules in the deep. The Darkside was the powder ski in my opinion. This year I skied an All-mountain Rocker Aftershock on groomed and crud and enjoyed my best turns ever.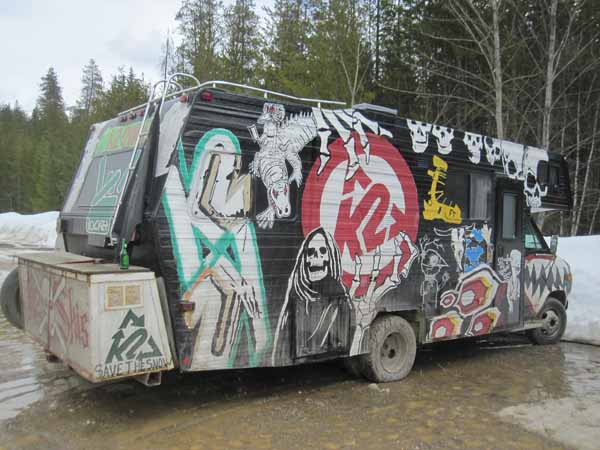 After several beers we weighed our luggage and queued to fly into Chatter Creek. When the choppers arrived we were met with the powder smiles of the previous trip as they quickly unloaded and departed. The fly in was just another helicopter flight except for the newbie's. Deanne Bryanton, ex freestyler, was happily sitting in the co-pilot seat of the Bell 212 on her maiden voyage.
The first impression of Chatter Creek lodge is impressive. It has grown into a large complex over the past decade. Guests stay in either Vertebrae Lodge or Solitude Lodge. Both lodges are joined by a covered breezeway and offer close to 20,000 square feet of space. The guides live and conduct their daily guide meetings in the "Spruce", the original loge constructed in 1999. The lodges are warm and comfortable with plenty of space, the atmosphere is relaxed and casual, the bar is cozy and the dinning room is grand. I was soon to discover that the cooks were exceptional.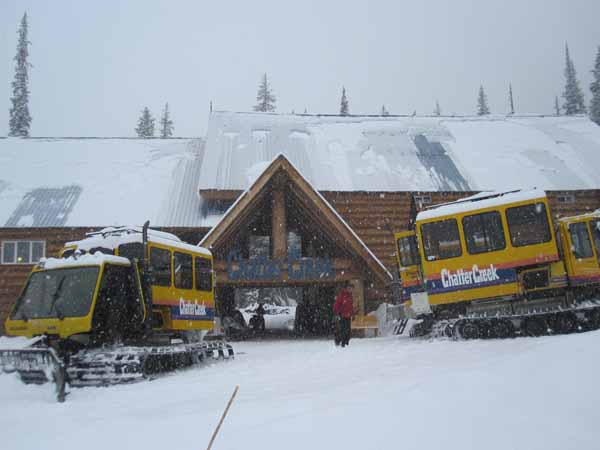 The hype that I had heard did not include the grand accommodations, awesome après ski or great food that I was about to discover. I was there for the skiing however quickly appreciated the whole experience. Being so remote the staff work two-week rotations. Their happy demeanor speaks volumes of the calm and professional nature of the owners.
The terrain at Chatter Creek comprises of 238 square kilometers of mountain terrain that extends from 1500m elevations to almost 3000m. That is equivalent to 92 square miles and is in excess of 58,000 acres. To put the terrain in perspective, Island Lake Lodge offers 7000 acres.
The first morning we were greeted with 20cm of fresh and it continued to snow. Describing the skiing would be a challenge other than to say that the tree skiing is the best I have skied anywhere and Chatter is famous for its steeps, pillows and alpine glacier terrain.
In 25 years of chasing the ultimate ski experience I knew I was in my element. My thoughts were already focused how I was going to get back here next year, Chatter is definitely everything I expected.
The best description of the trip is these photos:
Photos by Alain Sleigher