Revelstoke's powder lives up to the hype
People familiar with Mount Mackenzie have long understood the massive potential of the conical shaped giant. Revelstoke typically gets 12 to 18 metres of snow annually. The mountain and the region had long been at the centre of Canada's heli-skiing and cat-skiing industry. There had been a small local ski operation with only one double-seat chairlift and a couple of ski runs.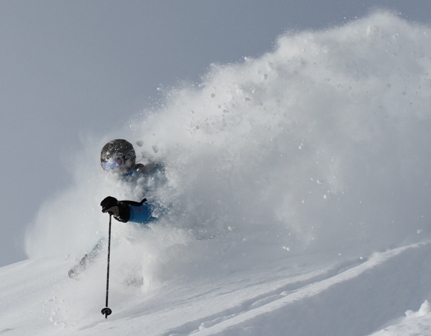 Rod Kessler, RMR's chief operating officer, said the connection between Revelstoke and snowsports goes back to the 1800s. Scandinavian immigrants brought their passion for skiing to the newly created Revelstoke townsite. The Revelstoke Ski Club was formed in 1891, making it the oldest ski club in B.C.
"So the resort is kind of embellishing a reputation," said Kessler, who previously ran a ski resort in Stowe, Vt.
"Mountaineers from all over the world have chosen to live here since the early 1900s. You can go into coffee shops in town and walk down the street and you will hear four or five different languages.
"We've got the Canadian Avalanche Centre in town and Parks Canada is based here. The mountain culture here is rich and all we did was turn up the volume."
They turned it up loud.
RMR opened four years ago, aimed at a niche destination market of advanced to expert skiers, preferably well-heeled, whose appreciation of what Revelstoke had to offer-plenty of snow and black diamond runs and no lineups-would also translate into real estate sales.
Besides opening up lift-accessed runs all over Mount Mackenzie's massive girth, the investors began work on a village at the base, starting with the Nelsen Lodge, a hotel-condo development with a contemporary feel, with upmarket rooms that have Miele this and Kohler that. Revelstoke's launch was so successful that it was soon setting condo sales records for prices per foot and speed of sales.
And then the financial crisis shattered the recreational property market and sales slowed. "Yea, great timing. Lovely," recalled Mike Vopni, sales and marketing director for RMR's real estate division. Some buyers couldn't complete. Then the resort's Denver-based debt-ridden majority investor bailed. The project was rescued by Northland Properties Corp., run by billionaire Bob Gaglardi, and his son Tom, which has operated successful chains like the Sandman and Denny's.
"They took this thing over when it was not in very good financial status and have paid off all the debt. They paid off the Nelsen Lodge. They could have walked away but they wouldn't cut their losses," said Vopni, over breakfast in Nelsen Lodge's Rockford Restaurant, which is part of a new chain of slightly upscale restaurants in B.C. owned by the Gaglardis.
RMR's Kessler said the resort has weathered its turbulent entry into the ski resort industry and is poised for growth down the road with the construction of more condos and more beginner and intermediate terrain for families and mid-level skiers. "We're no longer sitting around, wondering if we are going to survive."
His optimism is shared by the poster boy of the Revelstoke backcountry ski scene-Greg Hill who last year stunned the ski mountaineering world by setting the never-before-reached mark of climbing and skiing two million vertical feet in 365 days.
We skied groomers with Hill on our second day at Revelstoke and he talked about how the Revy scene had changed since he arrived here 10 years earlier and began climbing the then lift-less Mount Mackenzie with skins on his skis and then descending.
"It's great to see so many people out there just loving it. For so many winters, it was just me and 10 of my friends up there loving it. There's real passion here."
Aside from the Rockford, the apres-ski scene at RMR remains a work-in-progress with a swank wine bar set to open next season.
But there's an authentic ski-bum vibe in the bars and restaurants of Revelstoke, only an eight-minute drive, or shuttle bus away. We spent our second night at the Village Idiot, a pizza and beer pub, with skis on the walls and TVs showing sports or extreme ski videos.
Wealthy, middle-aged tourists on $15,000-a-week heli-ski trips sit next to young ski bums working three jobs to scrounge together enough coin to maintain their Revy lifestyle.
We watched the Super Bowl with a Toronto skier, Spiros Pappas, who was delighted by the Green Bay Packers victory and by the snow he could see falling through the bar's windows.
"I've never seen conditions like this. It's insane," said Pappas. "It's the best fall-line skiing I've ever had. The runs are so long and your legs get so tired that you want it to end.
"But then you want to do it again."
We woke up the next morning, a Monday, to 26 cm of new snow. A lineup began forming about an hour before the gondola's 8:30 a.m. start time and snaked beyond the resort base into an adjacent parking lot.
I walked to the back of the lineup where I heard someone with a Germanic accent grumble: "These Canadians -don't they work on Mondays?'
I inched my way toward the gondola with Karen McClinton, a 29-year-old carpenter/snowboarder, who moved to Revelstoke last April for the ski-bum lifestyle. "This is the longest lineup I've ever seen at Revy, except for opening day. But they did say 26 cm so I guess that's why the whole town has turned out."
McClinton, a self-described "powder snob," said she's become addicted to Revy's plentiful snow-631 cm of which fell by the end of February. "I never really experienced powder until I came here. You can get stuck up to your waist and have to unbind and crawl out it's so deep. And it's been an amazing La Nina year. It seems like the storms keep coming, over and over again."
It took us about 20 minutes to get on the gondola. I wasn't too worried about missing out on untracked snow because I knew that even on an epic powder day the number of skiers would still be overwhelmed by the scale of Mount Mackenzie.
On my first run, I headed down a gentle bowl and after about six big deep turns stopped to give my legs a rest. I thought about how the timing of this road trip couldn't have been much better. I was alone on the run for about 30 seconds before a snowboarder carved down the bowl and collapsed into a heap in front of me, covered in fresh stuff.
We both looked at each other and grinned. Neither of us said a word, until he blurted: "This is so good. There's nothing to say. Right?"