No Friends or Family On a Powder Day
There are certain phrases that have the ability to capture the ethos of an entire culture and summarize the very best moments of a given sport; perfect game, hole in one, two minute drill, the list goes on. There is one phrase however that really gets to the heart of what really matter for skiers; no friends or family on powder days.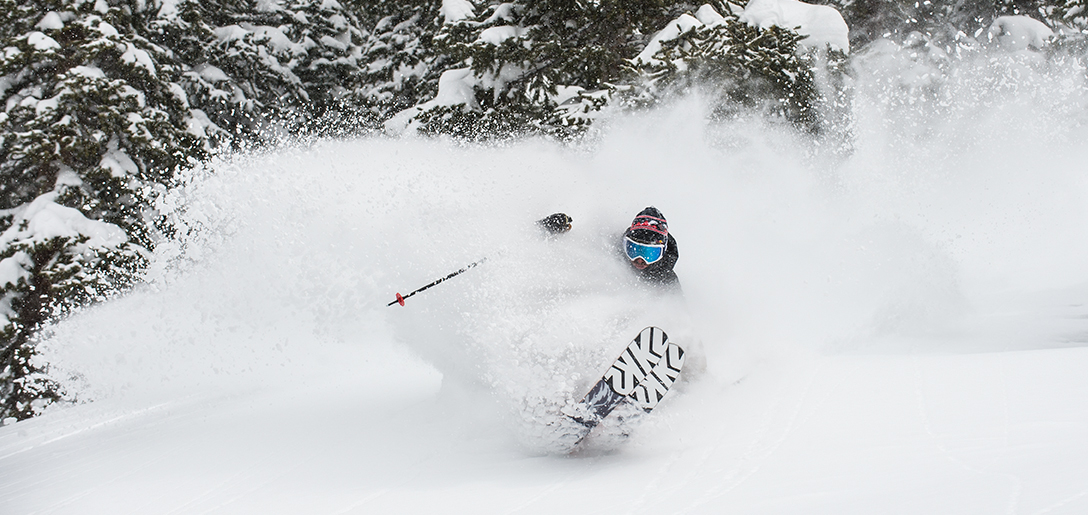 Skiing, by nature, is an individual pursuit. Whether it's man against the clock, man against the mountain and elements, man against his friends, the skier has sole control of his destiny. When bestowed with the gift of a powder dump, skiers aggressively cut out distractions and get after it.
We've all been there, you pull into the parking lot and the friends you shared a ride/condo/dinner with last night are looking a bit weak or complaining about their hangovers. All you can think about is how fast you can get on the lift – powder day or not, they aren't your partner and it's time to cut dead weight and ski.
Sometimes, however, you are skiing some great pow with good friends or family and something beyond anyone's control happens and you need to decide to keep ripping to get as many fresh tracks before the other skiers descend like locusts on the pow. This happened to me about a year ago on the first day of a road-trip to Revelstoke. I had friends in from Toronto and Beijing that I hadn't seen or skied with in several years.
It was the first time for any of us to ski the new terrain at Revelstoke. We hit the resort at about 9am, which was just in time for first ride up the mountain. En route up the gondola, we looked out over an entire mountain of untracked pow, 20cm's has fallen that evening and our timing was perfect. We were absolutely giddy going up the lift as thousands of acres of acres of virgin powder flew below our feet. To our left was a steep, but very open bowl that dipped into a thicket of trees, promising only more pow with even greater solitude. This was North Bowl, which would be our playground for the day.
We bounded off the lift with excitement and rushed past others, poked through a short band of trees to reach the lip of North Bowl. Below us were only a handful of other skiers and untracked knee deep pow. The game was on; ski as many damn runs as you can before this bowl is tracked out. When it gets skied out, we would go looking on the South facing slopes. We figured three, six runs tops. It was 10:15. I knew by 1pm this bowl would not be the same place.
With an equal sense of urgency and excitement we pushed off. One from my crew launched into a small chute and the other plunged into an empty field of snow; I chose to let gravity do the work and made quick, short turns until my skis grew weightless and I floated down the hill in state of pure ecstasy.
When I reached the bottom I was alone. As we waited for my stragglers, I looked up and marveled at the shear expanse of North Bowl and the many untracked lines that awaited me. I simply could not wait to get on the chair and get back to the lip and do it again.
Soon, I realized that our comrade Owen was not moving too quickly, in fact, his skis were off and he was walking around. From a distance it wasn't clear the cause of the delay, but through the magic of cell phones (he was about 300 meters up the hill from us – beyond shouting distance due to the snow), we soon learned that he had lost a ski. He told us to go on, he didn't want to hold us up and he was certain he'd find it any minute now and knowing that we'd back on the same run at some time.
He was right about two things, we were coming back and weren't about to let his missing ski hold us back We pushed off, leaving Owen to look for the missing ski.
En route up the lift, I looked to the left over North Bowl and saw skiers dropping in and taking the lines that we had left. They looked like ants in the distance – but one ant at the bottom wasn't moving. He stood in one spot and even at a distance of half a mile I knew his body language said defeat. It was Owen, and his ski was still missing. I pointed this out to the gnar vets, "Hey, check out my friend looking for his ski!" One of them turned to me and said,"Friend? There are no friends or family on powder days." He turned and directed his gaze back up the hill, no doubt plotting his next run. The ride continued in silence.
Owen found his ski that day. He looked for 45 minutes before finding it. Not before I skied two more runs in the untracked powder. And Joel, his Beijing lifestyle of girls and drink left him unable to keep pace so I left him somewhere.
At the end of the day I met my friends in the bar. They understood my need to ski untracked all day. They actually introduced me to the term "no friends of family on a powder day". My wife unfortunately does not have the same tolerance as my friends, the "family" suggestion is not recommended!
We celebrated the powder and were the last to leave the bar. The following two days I skied with my friends for at least four hours. Powder is powder, what a trip!