Kootenay Coldsmoke Powder Festival
Coldsmoke is a four day (February 25 – 28) grass-roots gathering of backcountry skiers, snowboarders, and telemarkers from all over British Columbia and the Pacific Northwest at Whitewater Ski Resort near Nelson, BC.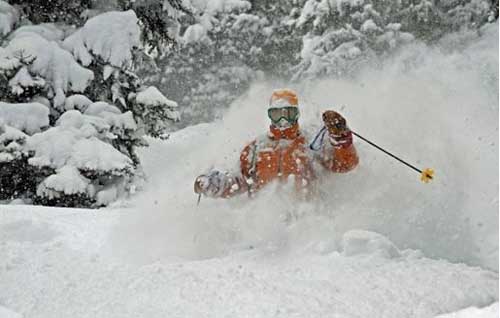 Now in its fifth year, the Coldsmoke Powder Festival (presented by Arc'teryx, Whitewater Ski Resort, and Mountain Gear) draws dedicated, die hard and enthusiasts as well as neophyte backcountry skiers and snowboarders who want to give off-piste adventures a try.
Highlights include:
1) Three full days of clinics for skiers, snowboarders, and telemarkers of all ability levels. Learn about freeheel skiing skills, the basics of tree skiing, taming wild snow, route-finding and track-setting, and mountain medical skills.
2) Parties get rolling with the Coldsmoke Opener at the Capital Theater on Friday evening, with screenings of ski films from around the world. To keep things interesting, local microbrews from Nelson Brewing Company will be on tap. On Saturday, don't miss the Buff-Eh dinner and the Cold Shot Multimedia Face Off. ?3) Sign up and participate in one of several super-sweet contests – you can even enter the G3 skigraphiks competition in advance. More energetic types can enter the Valhalla Pure Powderkeg Slopestyle competition, the Scarpa Poker Run, Gerick's Dually Slalom and the ROAM Randonee Rally.
For more information, visit www.skiwhitewater.com