10 Best Jobs for Powder skiing
Looking for a career change? Why not get a job that comes with a powder clause. We spoke to the people who hold some of the most desirable jobs in skiing — filmmakers, product designers, marketing managers — about how to get their job.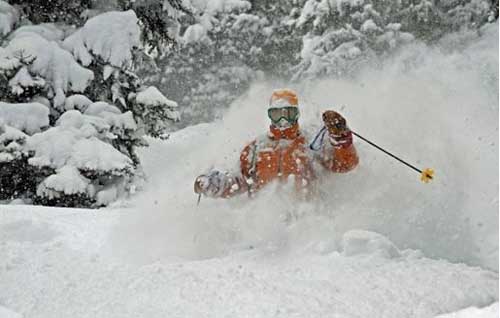 No. 1: Boutique ski maker
"When your passion is your job, you never work a day in your life," says Jordan Grano, founder of Folsom Custom Skis in Boulder, Colorado. "To have a chance to affect the industry you love in a positive way and help people enjoy their time skiing is what motivates me." Many boutique ski companies are spawned by skiers, usually after they're dissatisfied with the skis already out on the market. Perks include testing the skis during powder days. How to break in: Find a gap in the current market and be creative on how you can help fill it. Study ski design from other companies and stay motivated. Grano doesn't have a degree in designing, instead he spent years doing personal, in-depth field work with skis he built before he began marketing them.

No. 2: Heli-ski guide
Being a heli-ski guide in Canada or Alaska may be one of the world's most high-risk jobs, but it's also one of the most rewarding. "The best advertisementadvertisement> 10 best jobs in the ski industry Ski photographer, heli-ski guide — hey, it beats sitting behind a desk part of my job? Skiing sick spines all day," says Jim Delzer, who's worked as a guide at Valdez Heli Ski Camps in Valdez, Alaska, for the last three years. "I ski untracked steeps in Alaska for about 40 days each winter." How to break in: Work as a ski patroller or mountain guide, and be sure to take wilderness first responder courses, avalanche safety courses, and guiding courses from the American Mountain Guides Association or the Association of Canadian Mountain Guides. You may also have to climb your way up the ladder by working the front desk, kitchen, or radio operations at a heli outfitter before you get bumped up to guide.

No. 3: Ski photographer
Getting a single usable action photograph of a skier takes more effort than most people realize. But it's also more rewarding. Just ask Ian Coble, a self-taught photographer who has shot editorial spreads for ESPN, Backcountry, Powder, Skiing, and more. "It's absolutely incredible to get paid to travel and ski the most incredible places on earth," Coble says. "I also get to spend time outside and not behind a desk. I have the freedom to work for myself." How to break in: Photoshop skills are a must, as is motivation to work hard, mostly independently at first. It's also very important to network and you have to be passionate about your work, says Coble. "It's going to take this energy to show emotion in your work."
No. 4: Ski writer
Granted, being a ski writer was more glamorous in the days of bottomless magazine budgets, but it's still a pretty cushy job. Just ask Rob Story, a Telluride, Colorado-based freelance writer who has penned ski-related stories for Skiing, Powder, Outside, Men's Journal, Travel & Leisure, Rolling Stone, and others. "The perks have been awesome through the years—free gear, great travel, more expensive steaks and bottles of wine than I can count," says Story. How to break in: A journalism degree and a magazine internship are good places to start. "Skiing ability is important, of course, but it doesn't help a magazine nearly as much as someone competent with words," Story says. "Internships remain the best way to get into it, and to meet the editors who determine freelancers' fates."

No. 5: Ski movie maker
A ski filmmaker gets free Clif bars, more than 2,000 Facebook friends, countless excess baggage fees, and 4 a.m. wakeup calls all winter. Just ask Nick Waggoner, director of Colorado-based Sweetgrass Productions, a ski film company founded in 2007. "My favorite moments are when we connect with people who watch the films," says Waggoner. "It's food for our creative side." But despite the early morning missions to catch good light, filmmakers get to travel to some of the world's best ski destinations with some of the best skiers. How to break in: A film school degree and owning your own camera gear will help. Sign up for an adventure filmmaking class like the Serac Adventure Film School. And do your homework, says Waggoner. "Watch movies, look at photographs … get inspired," he says. "Learn what makes a good film and surround yourself with friends who will push you."

No. 6: Product designer
We'd all be lost without product designers — they make sure ski equipment is designed correctly so a skier doesn't launch off a cliff sans boot. And then they get to test their products. Black Diamond product developer Derek Gustafson likes the challenge of designing ski boots and the way his job gives him the opportunity to work on a product that fits with his passion for skiing. How to break in: "Be sure that in addition to feeding the passion for the sport, you make sure you delve deeply into other interests because ultimately being well rounded is pretty important as you try to find a way to contribute to skiing and the outdoor industry," says Gustafson, who has a physics degree and worked for 12 years at a molded plastic design company before designing boots. He recommends a background in design, a degree is best, and an internship if possible.
No. 7: Ski resort social media manager
A typical day in the life of someone who does social media for a ski resort? Update the website, ski, check ad campaigns, ski, post a blog, ski, update Facebook, ski, head to après ski, check Twitter. "It's an awesome job," says John Beal, the online marketing and social media coordinator for Jackson Hole Mountain Resort. "I look out my window and see the tram flying by every 10 minutes. Powder clause is in full effect. Lots of free gear. Meeting and skiing with lots of pro athletes, photographers, and film crews. We ski hard and we work just as hard." How to break in: A background in marketing, web design, or online marketing will help. Beal volunteered as a mountain host at Jackson Hole and got a good recommendation when the position became available.
No. 8: Ski shop employee
Working in a ski shop comes with lots of perks: Free ski tuning, endless piles of free gear, testing skis before they're available to the public, and powder-day clauses. "It's a great job," says Ryan Ahern, 27, who's worked at Golden, Colorado's Bent Gate Mountaineering shop for the past two years. "It's nice selling products that you actually use and selling them to people who are passionate about the same thing. You get to talk gear all day long." The bummer: You'll do this job for the swag, not the paycheck. "We definitely aren't doing the job because it pays incredible," says Ahern. "But we get great deals on skis. Most everyone who works here gets a couple pairs of new skis every year." To get a ski shop job, you'll need retail experience or experience working with customers, and gear and ski knowledge.

No. 9: Pro skier
Everyone wants to be a pro skier. The perks are endless: skiing in the best locations for free, traveling the world, piles of gear, autograph signings, film segments, and being surrounded by people who have just as much enthusiasm for the sport that you do. "It's pretty much the ultimate job," says pro skier Mike Douglas. "It's all about skiing the best stuff. It's pretty hard to get tired of this." How to get into it: Douglas advises that the best way toward becoming a pro is to get involved in competitions—sign up for a local big-mountain comp and work your way up to a stop on the Freeskiing World Tour—and begin to prove yourself against other skiers. Attend the SIA ski trade show in Denver next winter, armed with a ski resume and prepared to market yourself to potential sponsors. Make a 'Sponsor Me' clip on YouTube and starting trying to shoot with professional photographers. You have to show your stuff, and only ski because you love it. He says that networking could be important, but it goes even deeper then this. "It's really all about your talent and willingness to go bigger," he says.
No. 10: Marketing manager
Doing marketing for a company that makes vacuum cleaners may be dull. But imagine doing marketing for a company that makes ski gear? Pretty easy stuff to get excited about, if you ask us. A typical marketing job for a ski gear company could include everything from doing public relations with media, managing the athlete team and website, writing the catalogue and press releases, traveling to events, preparing skis for magazine tests, sending gear to pro athletes, setting up photo shoots, and much more. "I get to work directly with some of skiing's top pros, I get to witness some of the best comp riding on the planet, I get to see once in a lifetime action go down on film, and I get to ski in some of the best spots on the planet," says Mike Nick, the Sports Marketing Director for Orage, a ski apparel company. "It doesn't get much better than that." How to break in: You'll need experience in marketing or PR, strong communication and writing skills, and a ski background.
Source: http://www.msnbc.msn.com/id/40843728/ns/travel-seasonal_travel/