Ski Touring has Experienced a revolution
by Dan Savage
Photos by Chris Fraikin
In the early years of ski touring there were Giant Slalom or Slalom skis to mount with your Reimer or Emery bindings.
More recently there has been snowboard influenced mid-fat skis and various european walking-oriented touring bindings to choose from.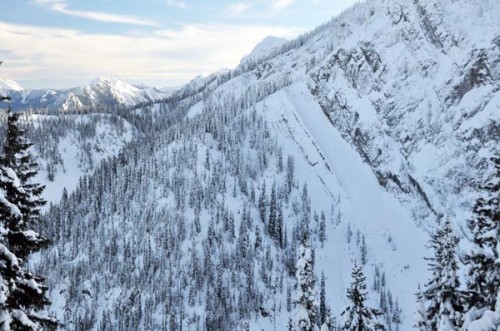 I began touring at Mt Washington's Tuckermans and Quebec's Chic-Chocs in the early 80's before relocating to BC's Coast where touring became more mainstream. The early gear was challenging. Skins frequently fell off when you needed them most, bindings regularly broke, and the skis were not designed for off-piste snow conditions. Move on into the late ninety's and everything became more dependable, make climbing easier and skied better to. In those years I tried all the touring options and remember them fondly as they all led to some great adventure forever etched in my mind. Spearhead Traverse '86, Mt Robson '87, Mt Hood '89, Mt Geoffrey '90, Black Tusk '91, Blackcomb Cirque '92, Mt Decker '93, Thunder Meadows Hut '94, Ray Glacier '95, Three Sisters '97, Duran Glacier '98, Valhalla '99 and on and on.
The gear has been better however not perfect. In my opinion ski touring has experienced a revolution.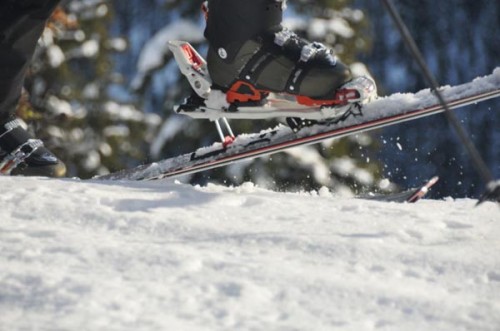 Welcome K2's Adventure Backside series paired with the F10 & F12 Marker Tour alpine touring bindings. The revolution is gear that climbs and skis better than anything else on the market, period.
I skiing on the Darkside 181. The 188 was attractive however a lot of ski. With 127 mm underfoot the floatation keeps me flying at high speed and the Powder Rocker make turns where I have never turned before. The Powder Rocker is designed for deep snow. The tip has the most elevation and longest measurement of Rocker and produces a "surfy" feel that enhances soft-snow performance. The camber region still exists to ensure edge-hold in firmer conditions.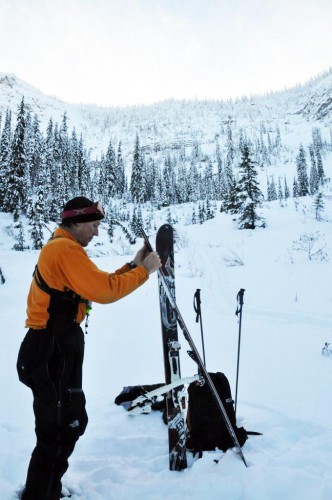 The Darkside has a flat, notched tail for practicality in the backcountry and to allow climbing skins to stay secure and centred. The flat tail keeps your rooster tail out of friends faces and allows your to make a heal turn when climbing. It also comes with tip and tail holes for climbing skins and K2 also offers pre-cut climbing skins that fit your ski perfectly. I took my skins out of the box and put them directly on my skis with no fitting or fussing, but most importantly they do not fall off because of a poor fit. And the topsheet od the ski is designed to repel snow to prevent it from building up and adding unnecessary weight. If the Darkside is too fat or you prefer a twin tip ski, the Adventure Backside series has a ski for you. Finally a ski company has taken backcountry skiing seriously and has produced leading edge product.
For bindings I'm using the F12 Marker Tour alpine. They ski like a real downhill binding, are lighter that the Fritchie, and climb better than the other brands. What more do I need to say?
The binding looks a lot like their big brother the Duke. The toe-piece looks very similar, but better optimized for touring instead of stomping 50-footers. The heel-piece is much lighter and the adjustable climbing bar works better than any other touring binding I have used. It's simple, three positions at perfect heights, and easier to change with your pole than any other that I have used. I chose the F12 over the F10 because I weigh 195lbs and like to ski with a 10 DIN. The F10 is lighter and the DIN goes to 10. What can I say other than they are awesome, well dome Marker!
Boots have also improved greatly and have achieved a new level of comfort and performance with strong product parity among brands. I tour with the new Salomon Quest Pebax Pro because it is a very nice skiing boot and offers me a great fit. Garmont, Scarpa,and Dynafit also have quality touring boots, have your retailer determine what product gives you the best fit.
I stated a revolution because that is what this gear has meant for me. Superior reliability and performance will keep me touring and skiing for may years. Don't wait another day to upgrade your gear, now is the time.