The Canadian Avalanche Centre's Backcountry Avalanche Workshop
Backcountry Avalanche Workshops are aimed at backcountry users with some awareness and experience, but maybe not a lot of formal training. We present a mix of hands-on expertise from local guides and other front-line avalanche workers, with science from avalanche researchers. This exposes participants to the spectrum of knowledge that forms our understanding of avalanches.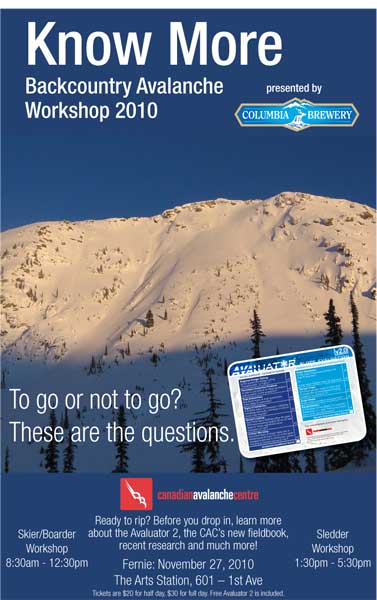 Each workshop is hosted by a CAC public avalanche forecaster, and offers a great opportunity for participants to connect with mentors in their community. They'll find out about all the great programs and services available to them through the CAC, and hear about new decision-making and rescue techniques.
This Year's lineup:
Avaluator 2.0: We're introducing the updated version of our very popular Avaluator, giving users new slope-assessment techniques before jumping in and riding.
Decision Making in Avalanche Terrain: This new fieldbook is designed to guide more-advanced users through planning, observation and decision-making processes.
As always: We'll explore local terrain, work through some travel tips, and examine a few case studies.
Morning Workshop for Skiers and Boarders: All the stuff above, plus we'll look at some recent research in snow science, like when to dig (and when not to) and focused field observations for different types of avalanche dragons.
Afternoon Workshop for Sledders: All the stuff above, plus we'll look at the latest in companion rescue and safety equipment.
Come for the whole day: We've got the lineup planned so if you want to attend both sessions, you won't hear the same stuff twice.
Backcountry Avalanche Workshops 2010
Whitehorse – November 13, Beringia Centre
Prince George – November 20, UNBC, room 7-212
Terrace – November 20, Coast Inn of the West
Fernie – November 27, The Arts Station
$20 for ½ day session, $30 for full day: Free Avaluator 2.0 included!
Don't forget an extra $20 for your copy of our new Field Book!
For more information, contact Nancy Geismar at ngeismar@avalanche.ca or phone: 250-837-2141, ext 233. Or visit our website: http://www.avalanche.ca/cac/events/backcountry-avalanche-workshops. .