Inside K2's Design Process
Design and innovation strategy at Seattle-based winter gear manufacturer K2 focuses on harnessing ideas from employees and sponsored athletes.
To understand the design process at K2, the largest seller of skis in the U.S., consider its relationship with Shane McConkey. One of the world's most talented and colorful extreme skiers before his death in a ski accident last March, McConkey changed the way K2, and ultimately most of its rivals, makes skis.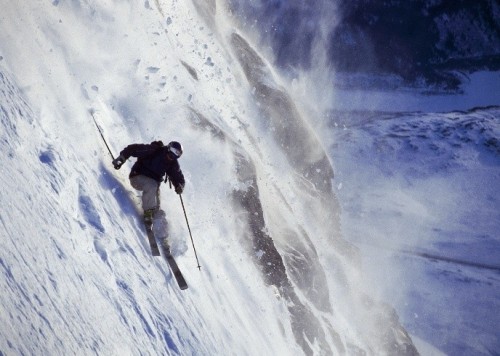 It started shortly after K2 began endorsing McConkey in 2004. The company brought him to Whistler, B.C., on a junket to ski with its retail partners. But rather than merely glad hand and promote K2's latest product line, McConkey wanted to sell an entirely new idea in ski design. He believed skis that curved up at the tips and tails— a design that would come to be known as "rocker"— made powder skiing much easier. So before he took to the slopes that day, he grabbed a piece of wire, ran it around the rivets in the tips of his K2 skis, and cinched it tight around the toe piece of his binding. The rigging pulled the tip skyward. On his makeshift skis, McConkey floated down the mountain. "Point was made," says K2's global brand manager Jeff Mechura. "He was a believer in these things."
What defines K2, though, is that it became a believer too. Other companies might have dismissed the stunt as the wacky gimmickry of a skier who's jumped off one too many cliffs. But K2 was willing to listen, willing to rethink the conventional wisdom of ski design.
And McConkey gave them an earful. He didn't just want the rocker; he wanted the skis to be wide, much wider at the tips and underfoot than anything on the market at the time. Within weeks, McConkey was shooting Mechura page after page of ski designs. They included detailed drawings of skis with width and length measurements that would make engineers proud. Alongside those drawings were notes describing his vision. "I think it's important that the tail is the narrowest part of the ski," McConkey wrote in one memo, concluding, "I could keep writing for pages more."
Within a year, the K2 Pontoon hit the market. K2 won't break out specifics, but in a business where ski models change as frequently as weather patterns, the Pontoon has remained in the stable of K2 skis for five seasons. This year the company is selling a limited edition version of the ski, with all proceeds going to McConkey's family.
For K2, this is how innovation gets done. The company listens to its athletes and pushes them to push the company. It challenges its staff, many of whom are expert skiers and snowboarders, to challenge convention. "We'll try anything once," Mechura says.
It's not unusual, of course, for ski and snowboard companies to sponsor athletes and even solicit their ideas. Snowboard maker Burton has Winter X Games icon Shaun White in its stable. Olympic gold medalist Ted Ligety skis for Rossignol. The lists goes on and on. And each company, to varying degrees, gets design insights from its athletes. It's a strategy they all promote.
But McConkey's pushing K2 to challenge convention is in keeping with the Seattle-based company's heritage. K2 started in the 1960s as one of the first firms to use fiberglass to make skis. In 1995 it was the first company to sell shaped skis, the hourglass-looking designs that made carving turns a snap.
The K2 Four skis became the best-selling ski of the era and led the industry to embrace side-cut designs. The same year K2 Snowboards was the first company to use a step-in binding system called "The Clicker." And "rocker", unheard of in ski design just a few years ago, is now part of the marketing lexicon of the industry, with similar designs showing up from rival ski makers.
K2 is part of the Jarden (JAH) conglomerate that includes such household name as Mr. Coffee appliances, Bicycle playing cards, and Rawlings sporting goods. K2, with some 450 employees worldwide, amounts to just a piece of Jarden, which rang up $3.8 billion in sales in the first nine months of 2009. But Charlie Strauzer, senior managing director of CJS Securities in White Plains, N.Y., who follows Jarden, says that K2's breakthroughs have allowed the company to outpace rivals, even in a down economy. "While their sales are down year-over-year, they're taking share from competitors," Strauzer says.
Two winters ago, Peter Pontano, a binding engineer for Ride, the snowboard company owned by K2, was testing some new designs at Mt. Hood in Oregon. While on a lift up the mountain, the top strap to his board binding fell off, leaving him to snowboard down without it. Much to his surprise, the run was fine, except for the heel-side turns when his toes swung out. It got him thinking about reducing the binding weight by holding the toe in place with the least material possible.
That was the genesis of the Ride ContraBand, a binding that uses two plastic straps to hold the toe in place and is roughly 20% lighter than its predecessor. "We encourage our staff to get out as often as possible," says Scott Mavis, Ride's brand director. "A lot of our ideas come from that." No need for focus groups when the athletes who work for the company are free to innovate.