MSP Presents the In Deep Trailer
MSP Films' new release, "IN DEEP: The Skiing Experience," debuts on September 19th in Boulder, CO at the Boulder Theater. The teaser is live and the film is now available for pre-order at www.skimovie.com. The first 1000 pre-orders will get $5.00 off the regular DVD price, and every US order comes with a free one-year subscription to Powder Magazine.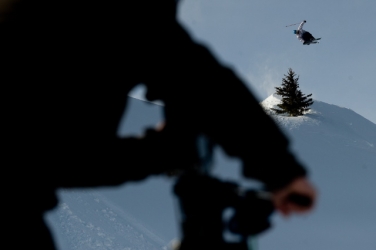 The 2009 season gave MSP the opportunity to take an original look at the sport of skiing. "The format of the film is going to be a fresh approach for MSP this year," said Executive Producer, Murray Wais. "We captured so much epic footage this winter, we could have put out five teasers like this." "Haines, AK was the ultimate trip because everything came together," added skier Eric Hjorliefson. "We had great weather, great snow, and we were able to ski everything we wanted to, which usually never happens."
MSP was also faced with tragedy this year when long time friend and star skier Shane McConkey died in a BASE jumping accident. In this film MSP will feature a McConkey tribute segment that will highlight his incredible career as a pro skier. Each tour stop will have a contest to see who can dress up as the best Saucer Boy with prizes being given out nightly. "Shane McConkey was the greatest ski film star of our time, in addition to being an incredible person and a loyal friend. We all miss him deeply," said Co-Founder, Steve Winter.
"IN DEEP" features the best skiers in the world including Mark Abma, Sean Pettit, Eric Hjorleifson, Daron Rahlves, Henrik Windstedt, Chris Davenport, Bobby Brown, Colby West, TJ Schiller, Mike Douglas, Kaj Zackrisson, James Heim, Hugo Harrisson, Rory Bushfield, PK Hunder, Ingrid Backstrom, Jacob Wester, Russ Henshaw, Henrik Harlaut, Alexis Godbout, Michelle Parker, JT Holmes, Sammy Carlson, Chris Rubens and Shane McConkey.
"IN DEEP" is shot in high-definition on locations in British Columbia, Italy, Haines, Sweden, Crested Butte, and additional destinations worldwide. The MSP Film Tour visits over 200 locations across the globe this fall, featuring athlete appearances, poster signings, after parties, live entertainment, and more. Please visit www.skimovie.com/tour to find out when "IN DEEP" will be at a location near you.