Winter Storm Warning Alert
The Weather Network's Storm Watch is predicting that a month's worth of snow will be hitting parts of BC in the next 48 hours. This significant winter storm is predicted to drop 30-50 cms of snow beginning Wednesday night. Heavy snow, strong winds and blowing snow will develop with heavy snowfall accumulations with snowfall tapering off Thursday evening as the system moves out of the mountains and weakens.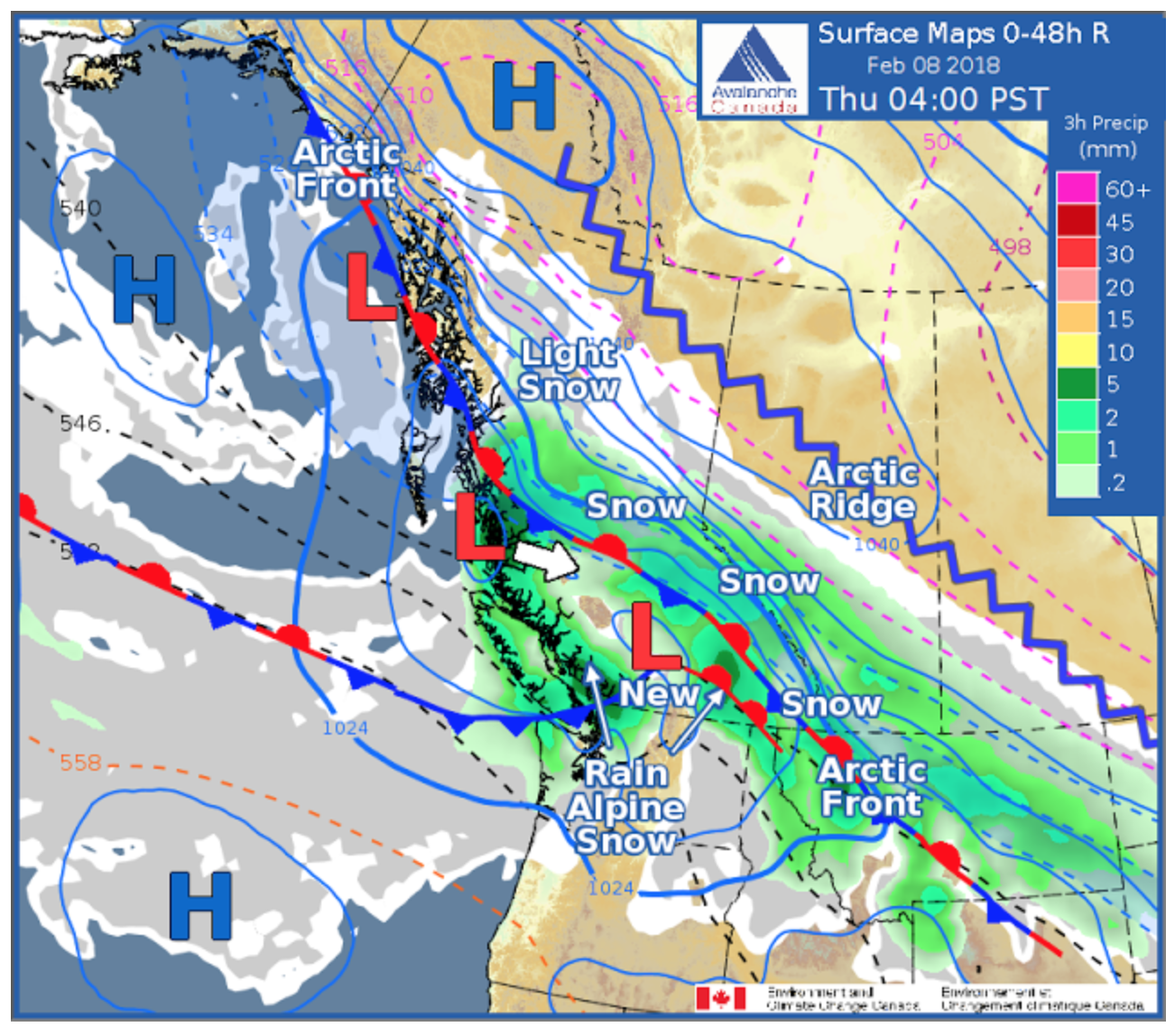 Excellent powder conditions will exist throughout the Kootenays, Cariboos, Rockies and powder triangle zone. Resorts that are forecast to get dumped on include Red Mountain, Whitewater, Revelstoke, Kicking Horse, Lake Louise, Fernie and Castle Mountain.
Environment Canada suggests that people consider postponing non-essential travel until the road conditions improve. Rapidly accumulating snow could make travel difficult over some locations. Visibility will be suddenly reduced to near zero at times in heavy snow and blowing snow.
Powder Canada suggests that Powder Chasers mobilize at the outset of the storm and be positioned for what could be the best powder skiing of the season!
Avalanche Canada has issued a Special Public Avalanche Warning in effect immediately until the end of the day Monday, February 12
Avalanche Canada is issuing a Special Public Avalanche Warning for recreational backcountry users, in effect immediately until the end of the day Monday, February 12. The warning applies to the following regions: Lizard Range & Flathead, South Rockies, Purcells, Kootenay Boundary, South & North Columbia, Cariboos, and North Rockies. Here is a map of the regions involved: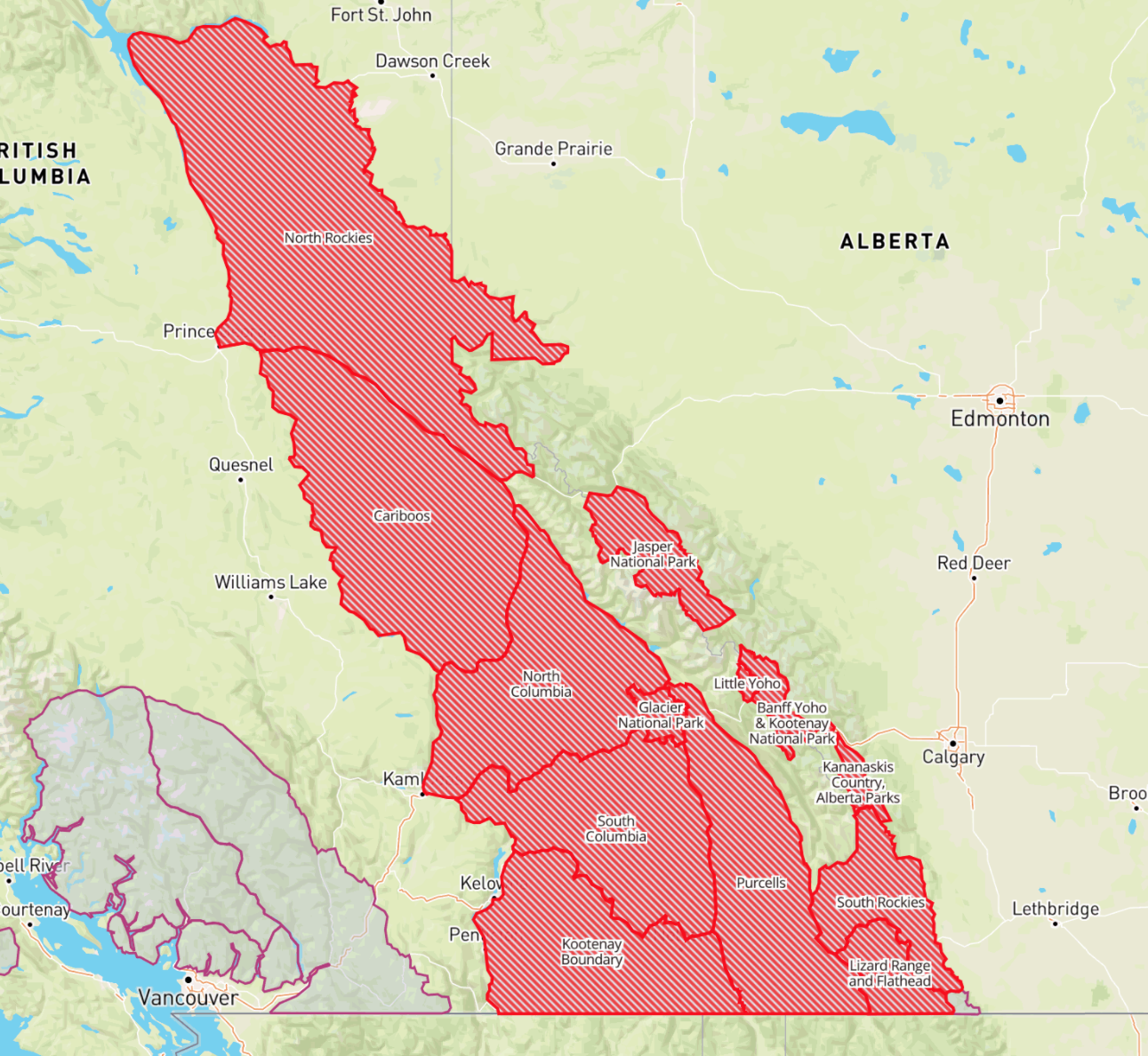 The snowpack in these areas contains a complex mix of weak layers. The weight of the new snow from nearly three weeks of constant storms has triggered many large avalanches in recent days. The pattern of avalanche activity is expected to change beginning Friday when the current storm breaks and a shift from widespread naturally triggered avalanches to more sporadic activity is expected.
"The decrease in natural avalanches coupled with improved weather and the long weekend is a classic situation where skiers and snowmobilers venture into more aggressive terrain where they might trigger avalanches themselves or be struck from above," says Mark Bender, a senior avalanche forecaster for Avalanche Canada. "People might be surprised by how large an avalanche can be triggered and how far it could run."
Numerous surprises and near misses have occurred in the last couple of weeks and a fatal accident occurred between Blue River and Valemount on January 30. "While danger ratings might come down on the weekend, lingering hazard will exist on most aspects and elevations for several days after the storm breaks," adds Bender. "Travelling safely in the backcountry for the next few days will require expert-level skills to avoid hazardous areas. If you don't have the training to recognize and avoid avalanche terrain, please avoid the backcountry or hire a professional guide."
Parks Canada and Kananaskis Country have also released special public avalanche warnings for the weekend. Click here to learn more.
Wax your skis and boards and make smart choices on where and who you share the storm with. Be safe and shred hard!