Island Lake Lodge's book powder filled inspiration
Bears Above The Valley is a history of the early catskiing and snowboarding dudes who hung-out and rode at Island Lake Lodge.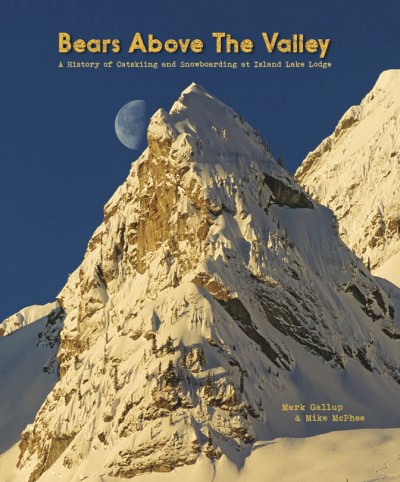 When I got an big brown envelope with a return address from my friend Mike at Island Lake Lodge, I pretty much ripped apart the paper open to get my hands on this book.
"Bears Above The Valley is a coffee table book that is exciting and inspirational. Its the kind of book that won't sit on a shelf and gather dust. Instead likely to be placed in plain sight on a night stand or in a office waiting room begging you to browse the stunning images or be sent down the powdery slopes of island lake lodge itself as the stories drift into your imagination."
This book details through stories how Island Lake Lodge has impacted Skiing/Snowboarding both locally and internationally in an entertaining way.
For example the world of snowboarding will forever be effected by the story and career of legend Craig Kelly who passed away in 2003. He was a essential and riveting part of the historical stories shared in this book which is dedicated to his memory.
Being a Calgarian having grown up so close to Island Lake Lodge it really excited me to learn more about how how local personalities like Ken Achenbach (a Calgary snowboarding legend) built their careers in the jaw dropping photographic backdrops. As you turn each page I just felt a sense of pride that in our back yard we have a colorful past contributing to the sport of snowboarding /skiing and the growing backcountry industry called Catskiing.
Catskiing has been a big part of my life over the past 10 years and to have a early look at this work, well was such a honor. Now truth be told, I got this book months ago, and wasn't exactly sure what I wanted to say about it just yet.
I felt that I wanted to share this book when winter was close enough to get excited about but you were not brushing snow off your car in the morning. I guess now is that moment.
There has been a fair amount of attention on the release of this book and, I wanted to give this exciting work its own lime light, to inspire and start the "ramping up of the winter season" with this being the first main post to my Catskiing & Heliskiing Blog here leading up to the upcoming season.
If you looking to get your imagination rolling, you need to go grab this book. It might get you thinking about winter soon than you wanted but likely right when you needed.
In the meantime, if you would like some immediate relief from your "winter anticipation blues" then check out their new video: